May 10 th arrives and the 30 Printed Portraits will be revealed to all and those  who feature on the walls of the Birmingham Museum and Art Gallery.
In the morning I was attending to final details including briefing the wonderful front of house team and remaking the nameplates with larger type and a Shrieval coat of arms. A gentleman came into the space and after a while focussing on the pictures I asked what he thought.  He had seen the exhibition advertised on the BMAG Whats on listings and had travelled in especially from Telford in Shropshire to see it.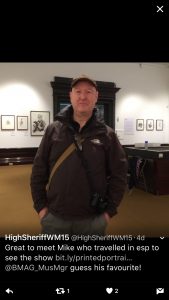 We talked about the how he is semi retired and visits galleries near and far to get a sense of artists work close up. We discussed portraits, photography, art before taking a picture of each other. He asked if he could take my picture in front of the Portrait of Eileen Wright as it is his favourite because of the 'glint in her eye at her age', as well as the big buttons on the phone she used to take he 97th birthday call.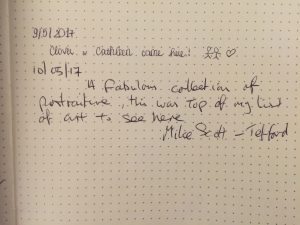 Mike had been to the TATE in Liverpool to see the Rossetti Monna Vanna portrait and had taken a celebratory picture. I pointed out that next door in Gallery 17 is a beautiful picture by Rossetti of Beatrix.  He thanked me and went to see it, quickly returning with glee and after one last tour of the portraits made his comment in the book.
As the normal viewing day came to a close  a group of women came into Gallery 16. They viewed the portraits with interest and consideration, sharing their views to each other about the portraits and the subjects. They enthusiastically reflected, and nominated their top three! Top of their favourites  was Eileen Wright.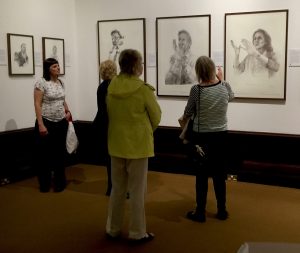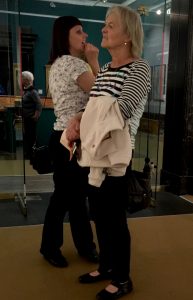 I heard later that evening at the private view that as they left the Museum they met Eileen's daughter and husband on the gallery entrance doorsteps and eulogised about the portrait exhibition and in particular the one of the older lady making her birthday phone call.     Wonderful