Considered, but unpredictable
Rashid Campbell is an active Islamic charity worker in Balsall Heath, Birmingham. He was aware of my portrait making through visiting my shared studio with artist Mohammed Ali and had said he would be happy to be drawn. Pre Christmas 2019, I found myself sitting opposite him in a restaurant as he engaged in active conversation, obviously pre covid times.
The photographs from the evening captured Rashid's character and the prominent hand movements emphasised his enthusiastic engagement with the assembled group.

One photograph in particular reflected these characteristics and became the basis for a drawn and silkscreen printed portrait which was fulfilled in October 2020, when a drawing was made using an experimental technique of sanded surface preparation. Sequences of tests were undertaken to create hand made textured surfaces on melinex polyester film to be drawn on to create silkscreen positives. These tests, with unknown outcomes were carried out with the intention of providing material alternatives to manufactured film.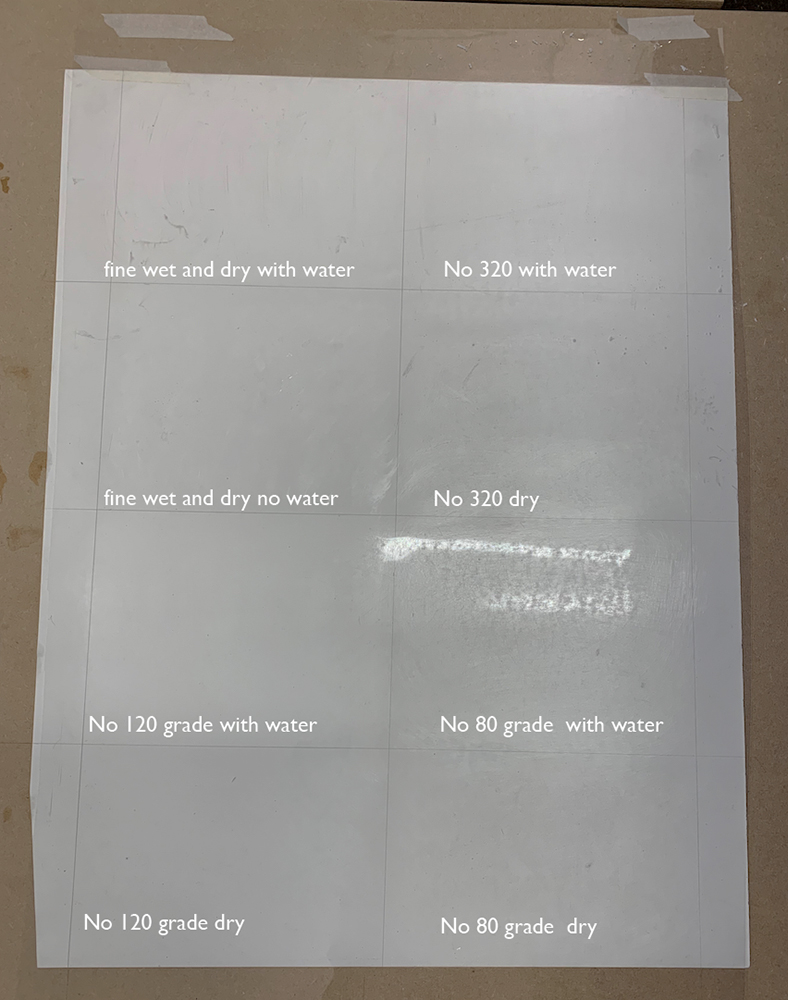 In an attempt to make a considered and structured process of enquiry the transparent film was cut to cover an A1 sheet of paper that had been split into eight equal rectangles. The bottom of each quarter was sanded with one of four sandpaper grades: No 120, No 80, No 320 and Fine Wet and dry. The top of each quarter was sanded with the same paper, but with water so a wet and dry texture could be compared. Once dry, a series of marks were applied with a Carbon stick; 4B graphite stick; 2B lead pencil; Carbon Powder; Lead shavings; Litho stick and 9B lead pencil.
The film was exposed onto a fine mesh silk screen and when washed out revealed that the sanded test information had been held in the screen and could be printed for review. Mars Black ink on white cartridge paper was printed and on review the 120 sanded rectangle with the lead shaving rubbing was selected to make a full A1 test . This area had preserved a range of sanded abrasions from thin, but deep circular scratches though subjective scrapes, skims and scuffs. To achieve this for a full size drawing the whole sheet was sanded with circular, horizontal and vertical motions. The developing sanded marks were observed and preserved to retain the scratch motion marks that displayed potential to contribute to an imminent drawn portrait.
---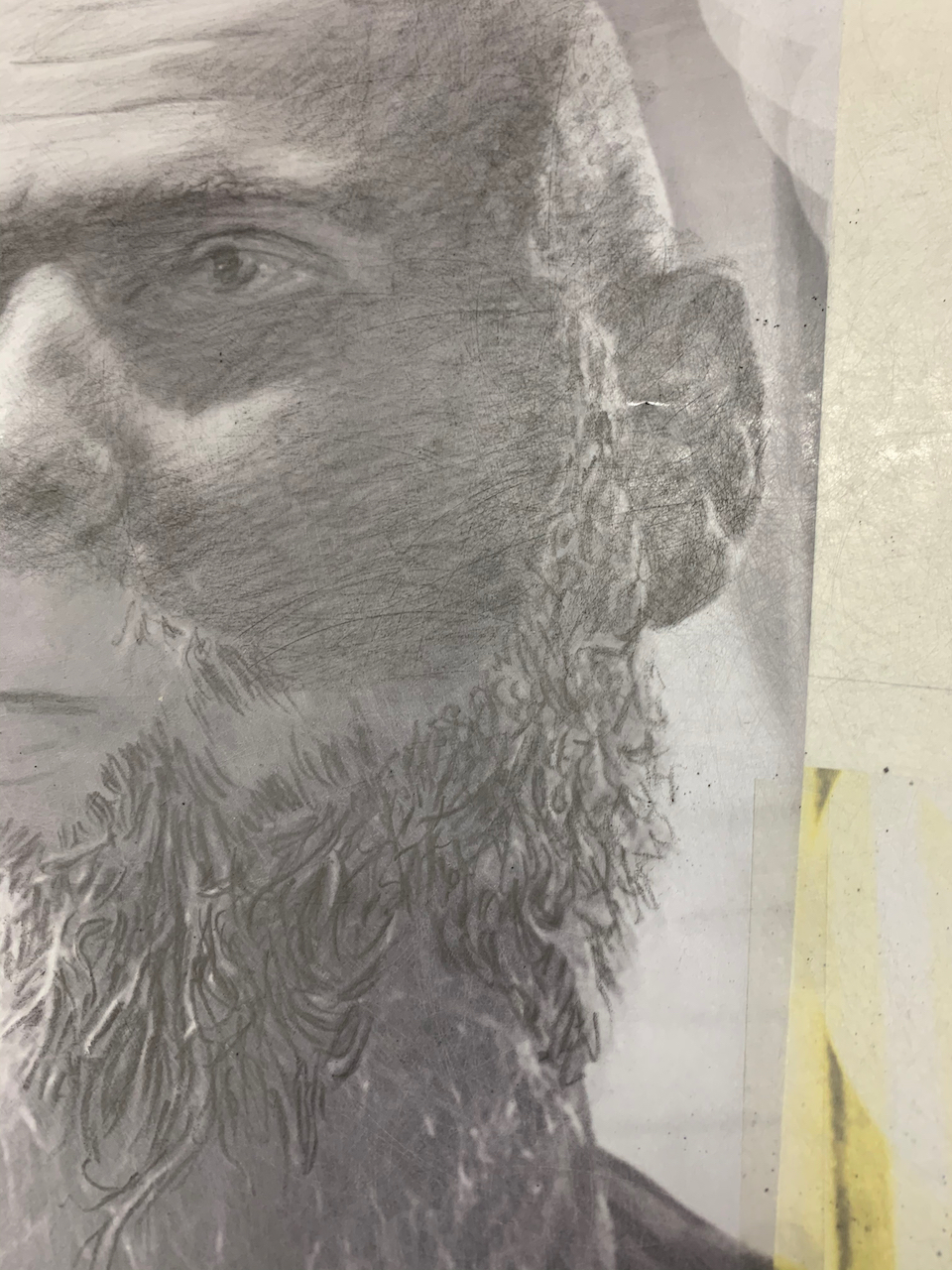 Slide 6
Sanded surface detail and preparation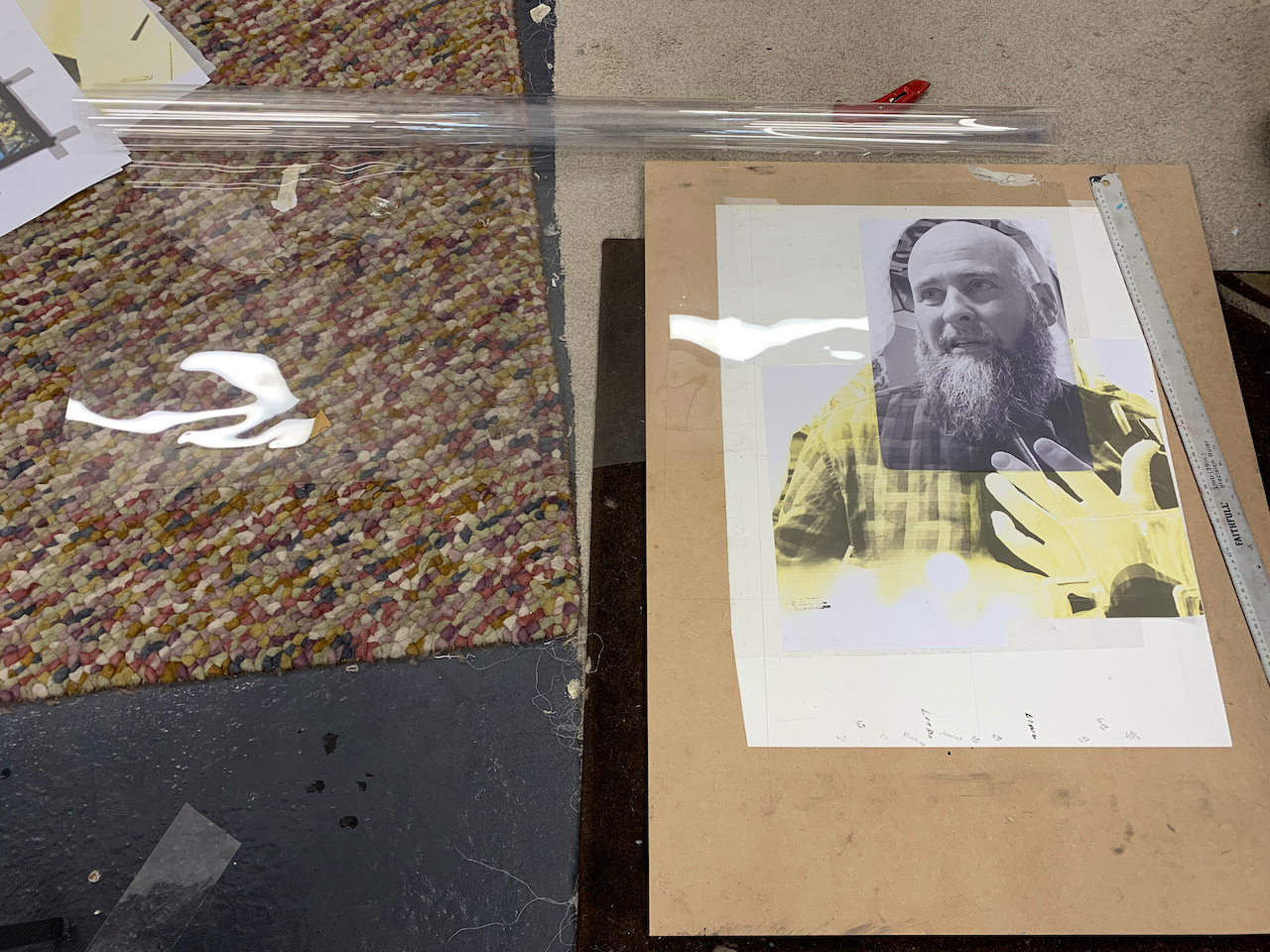 IMG_2514
build a uniform grain.
Circular and horizontal and vertical motion
IMG_2506
photograph under sanded film
drawing
photograph removed to reveal foundation level
graphite cu sand scratch
CU Graphite marks on sanded film
graphite cu
Graphite integrating with sand scratches
Drawing with graphite stick on the sanded surface developed a different physical response than on the tooth of drafting films. It is extremely sensitive and greater attention must be paid to the unpredictability of the abrasions. The graphite not only takes hold in the surface, but gathers into small deep black clumps that have to be blown away lest they create unsolicited marks. Responding to the sanded rough, smooth, fine and grained textures rather than obliterate them, graphite was built up to construct an image. This was particularly important in the delicate highlight areas, whereas in the shadows more pressure could be applied to create levels of darkness without the retaining the substate textures. The intention was that the combination of the material unpredictability of the bespoke sanded surface and the figurative drawn marks upon it, will hold the temporality of the making in the completed print.
---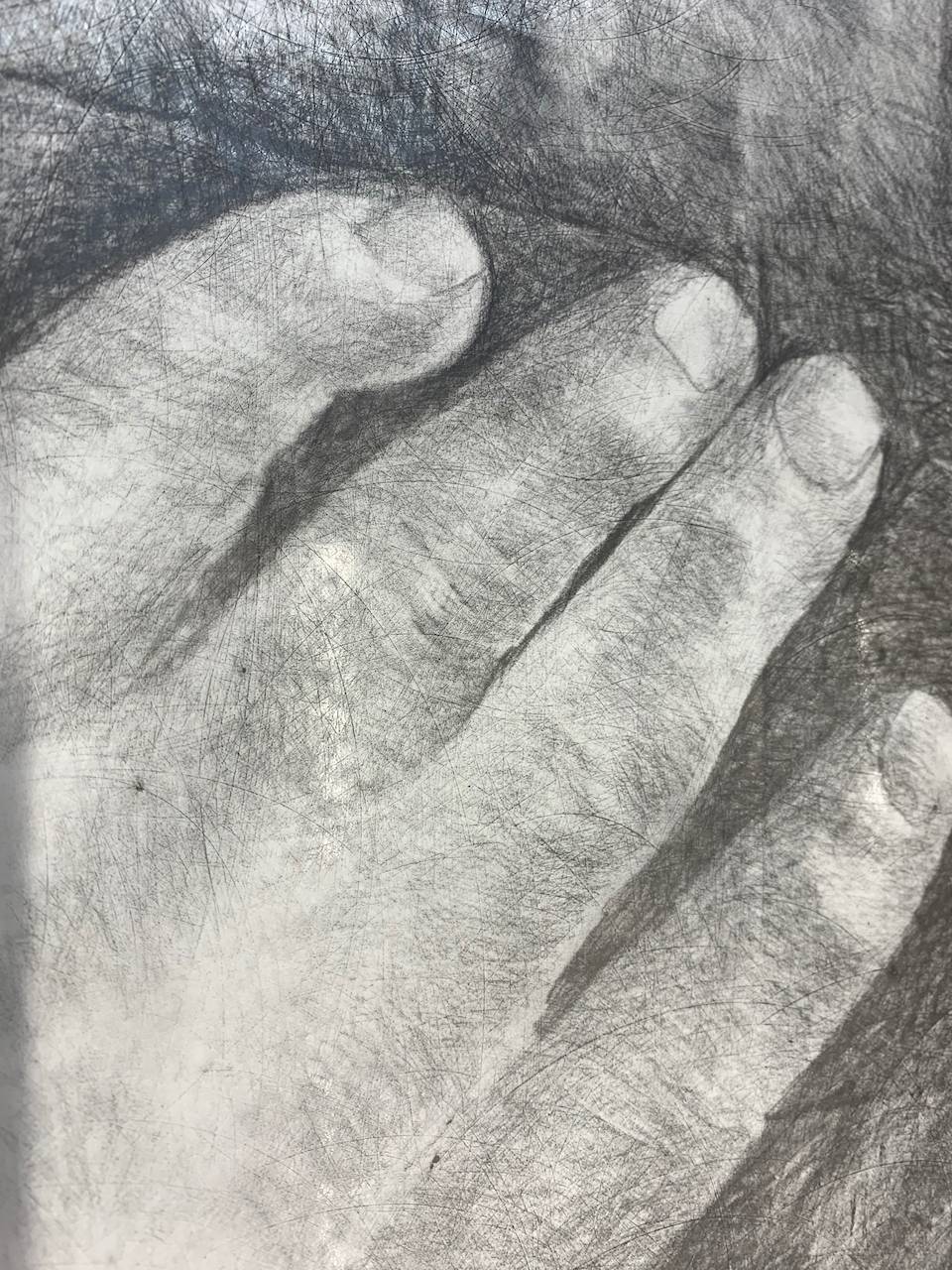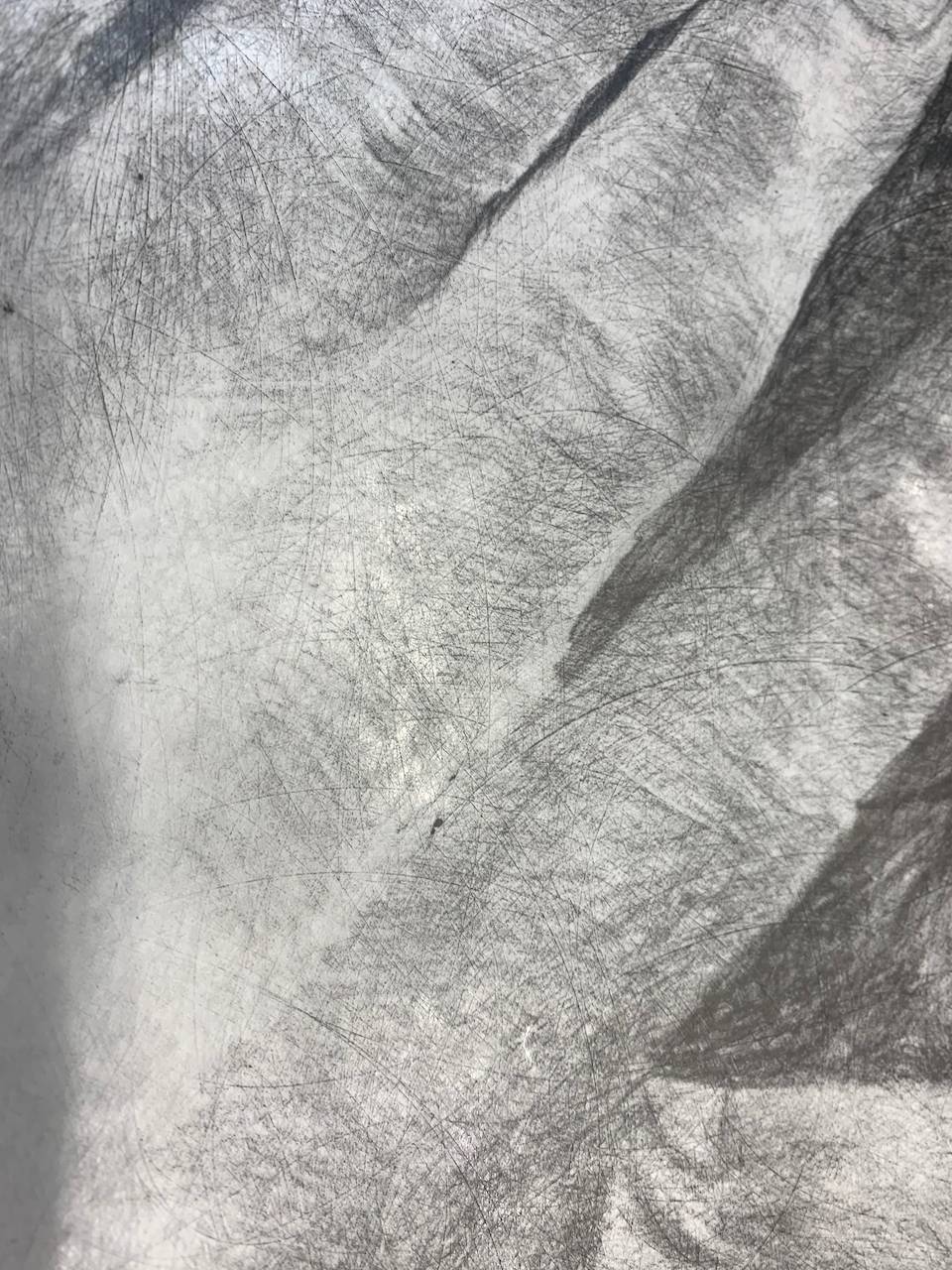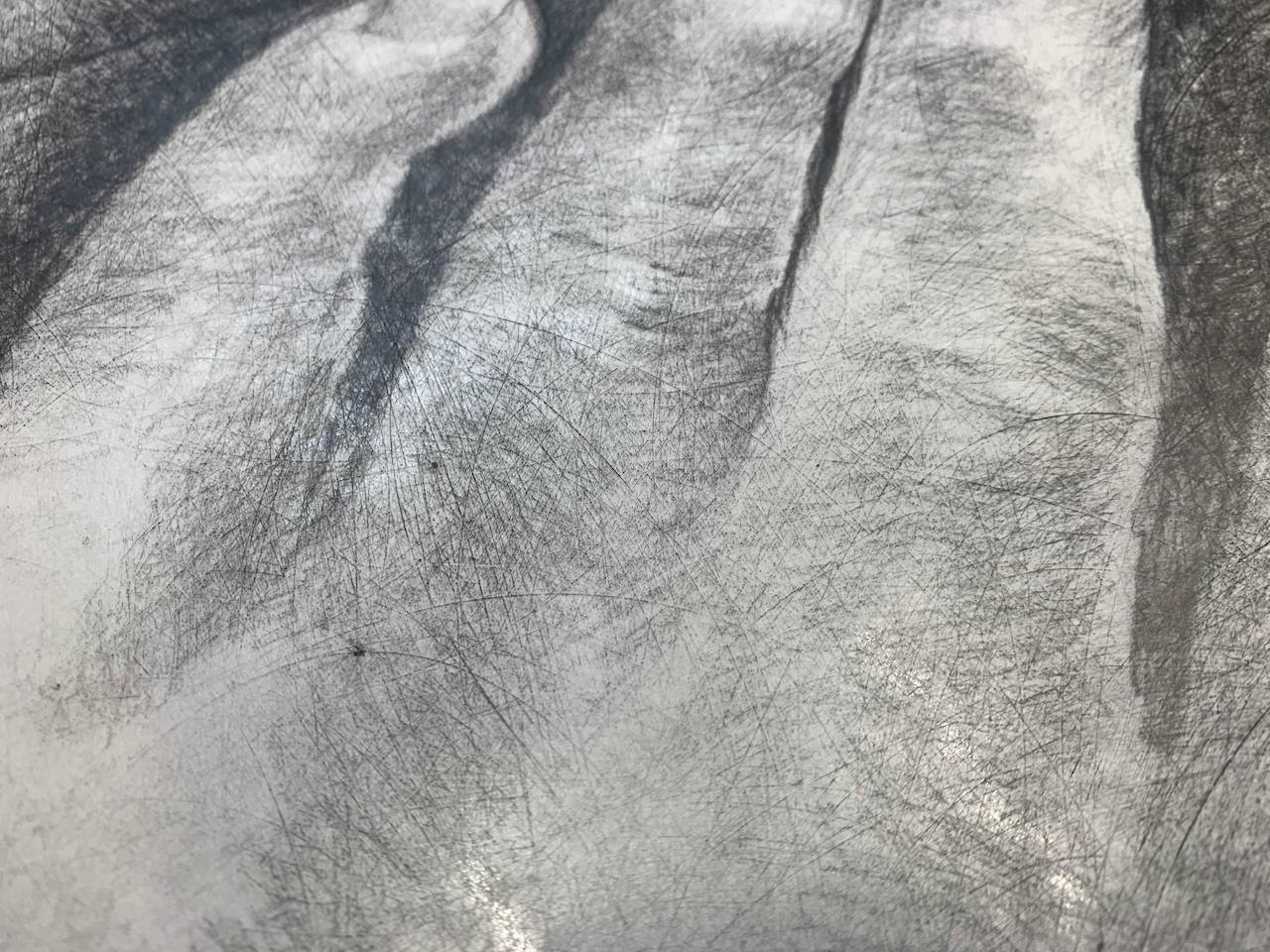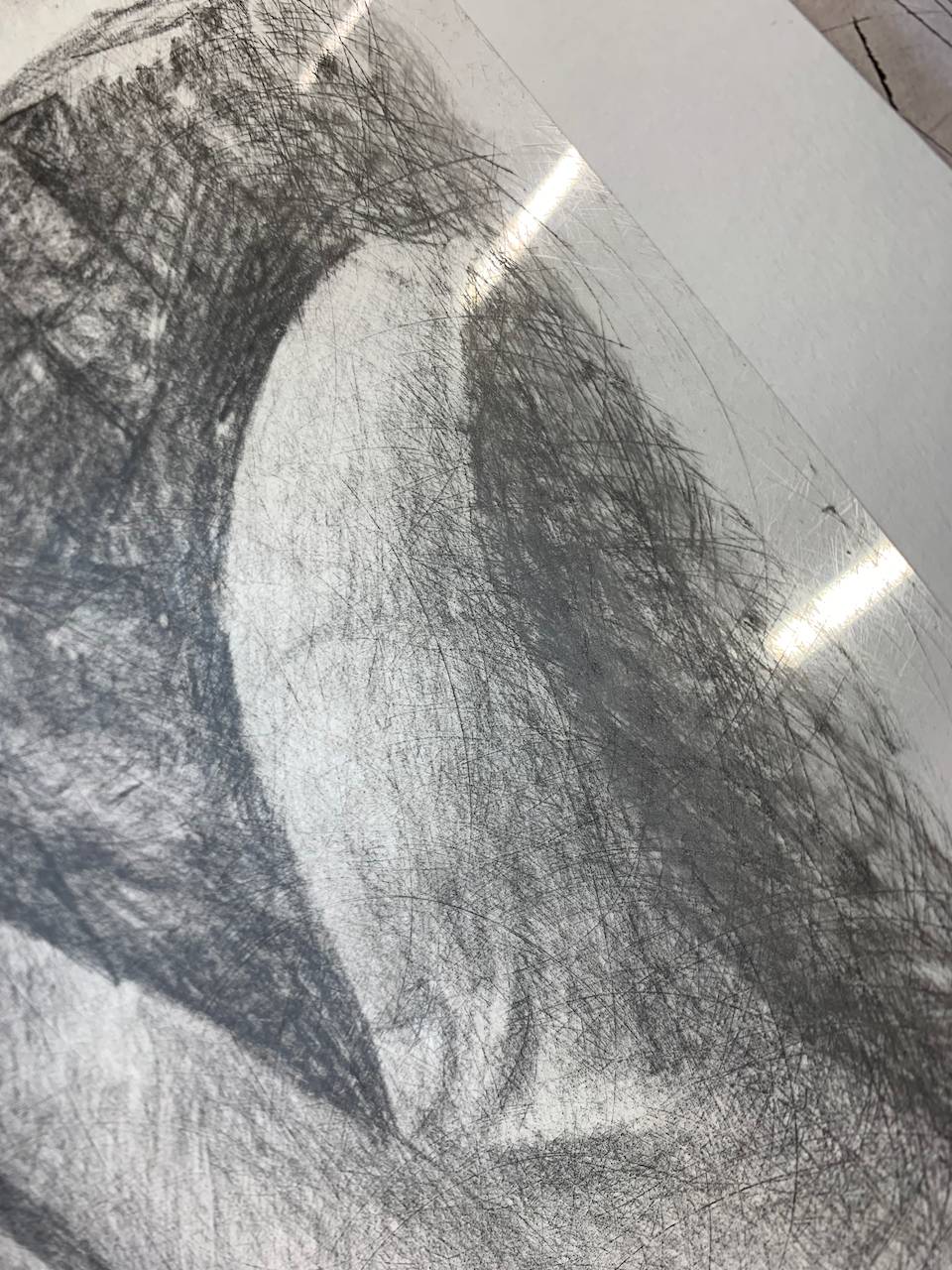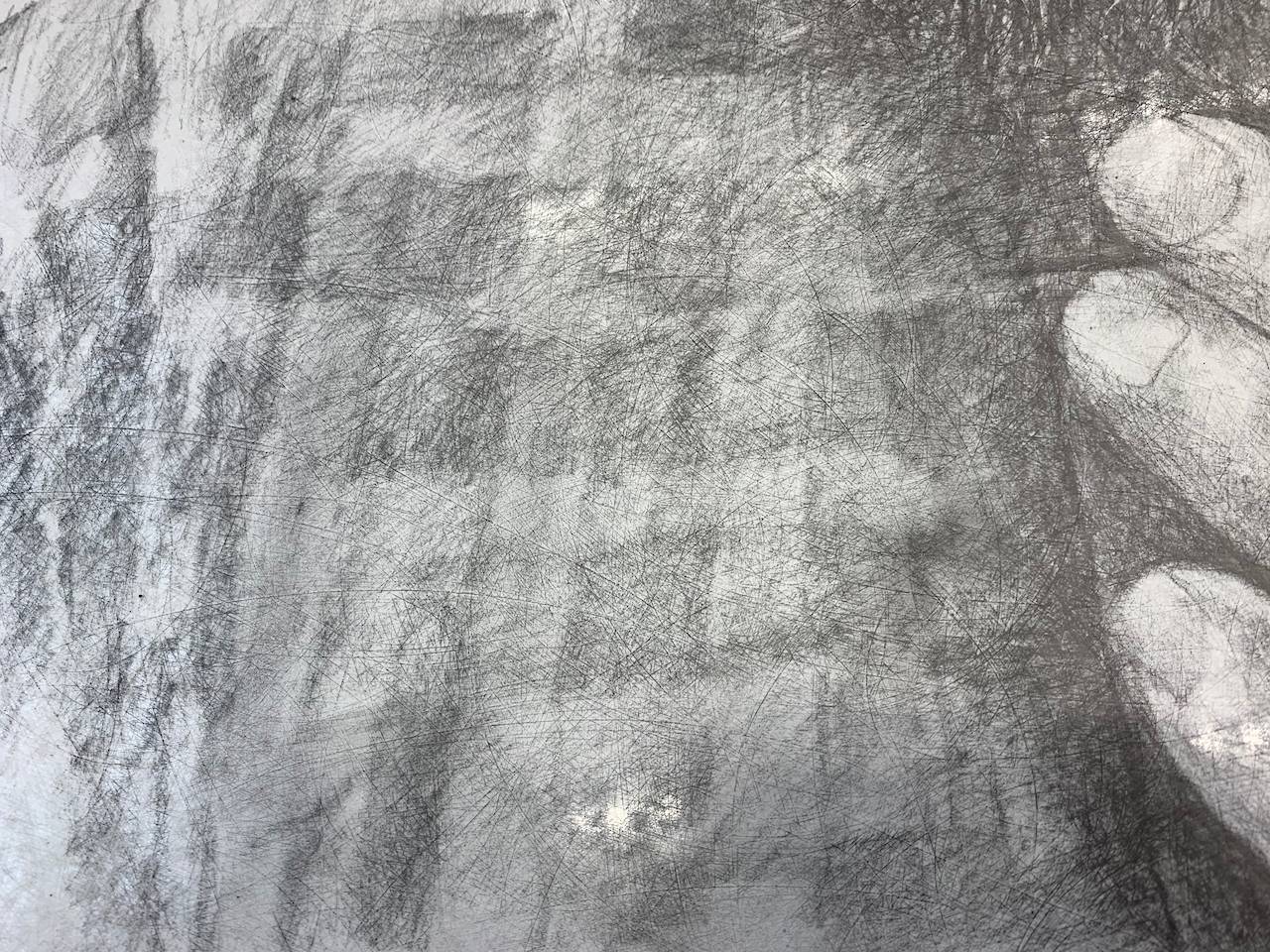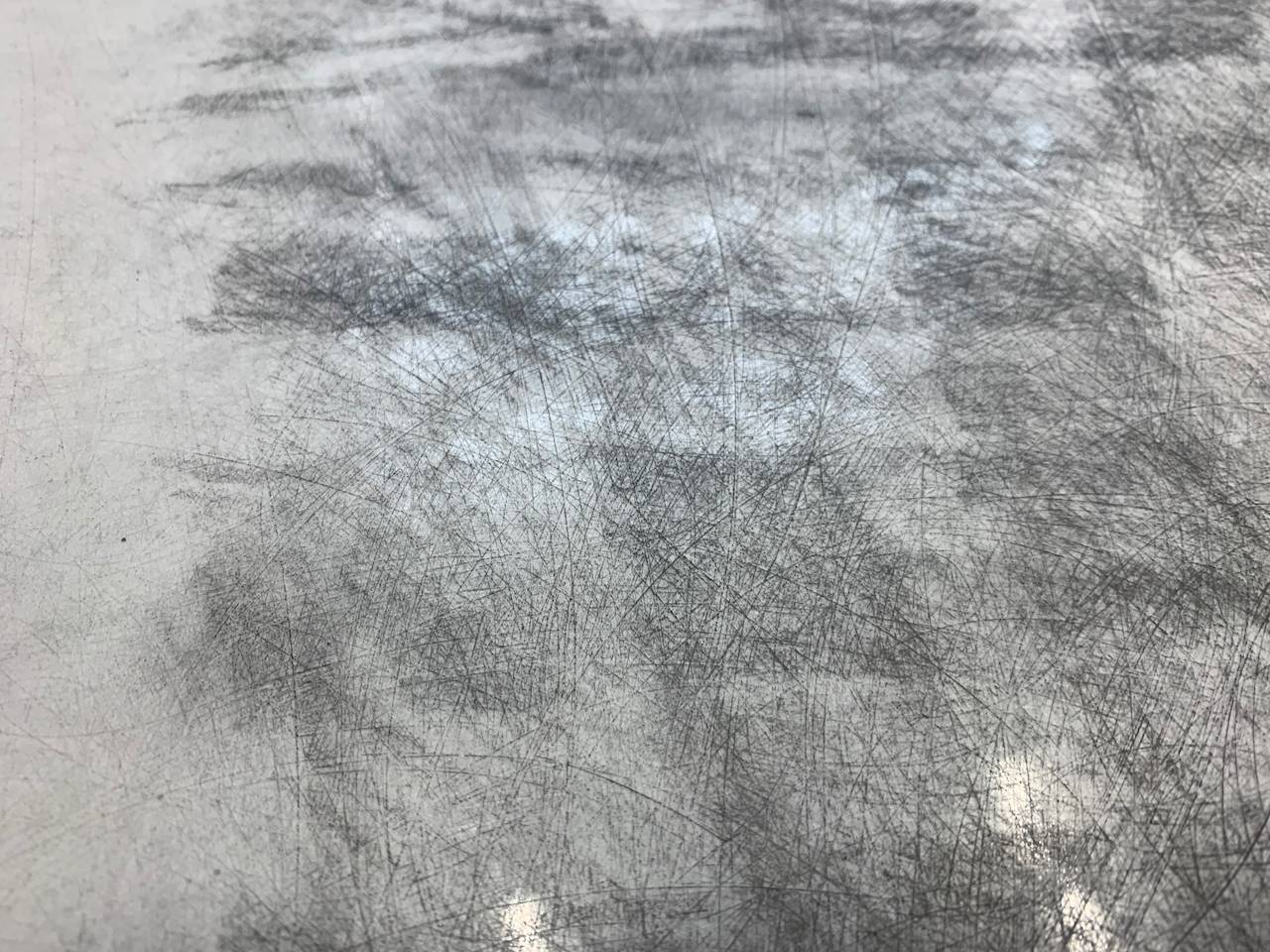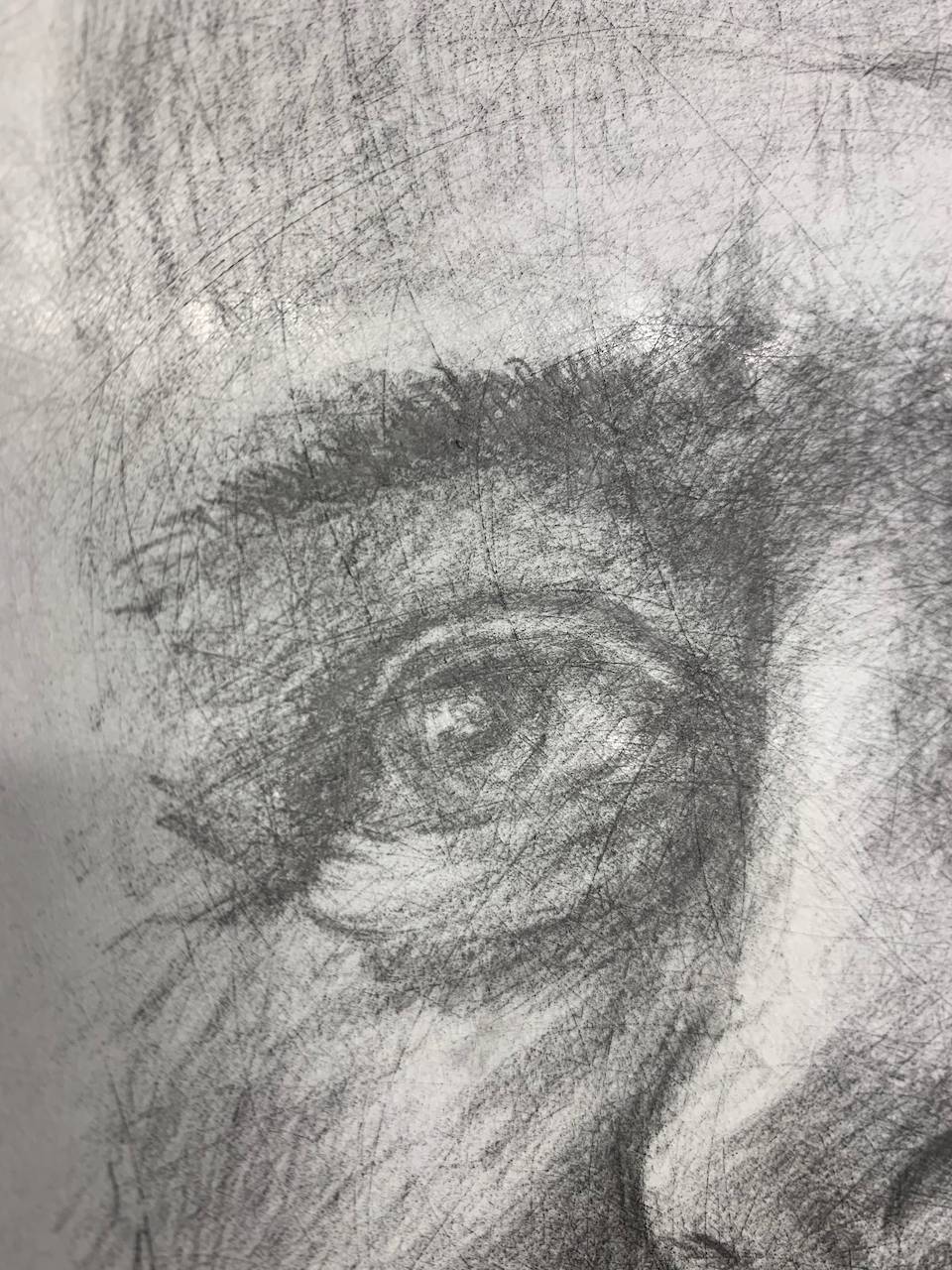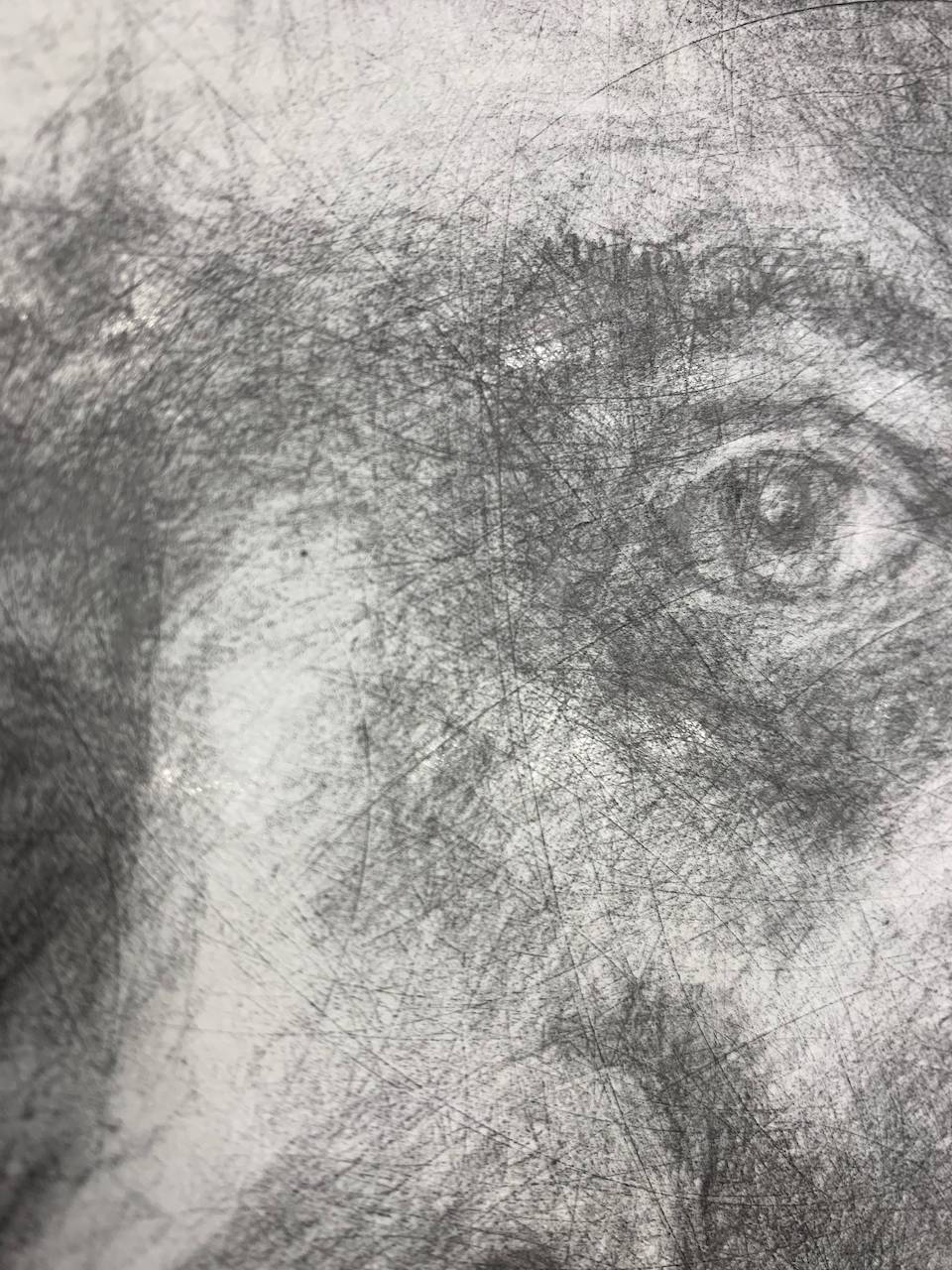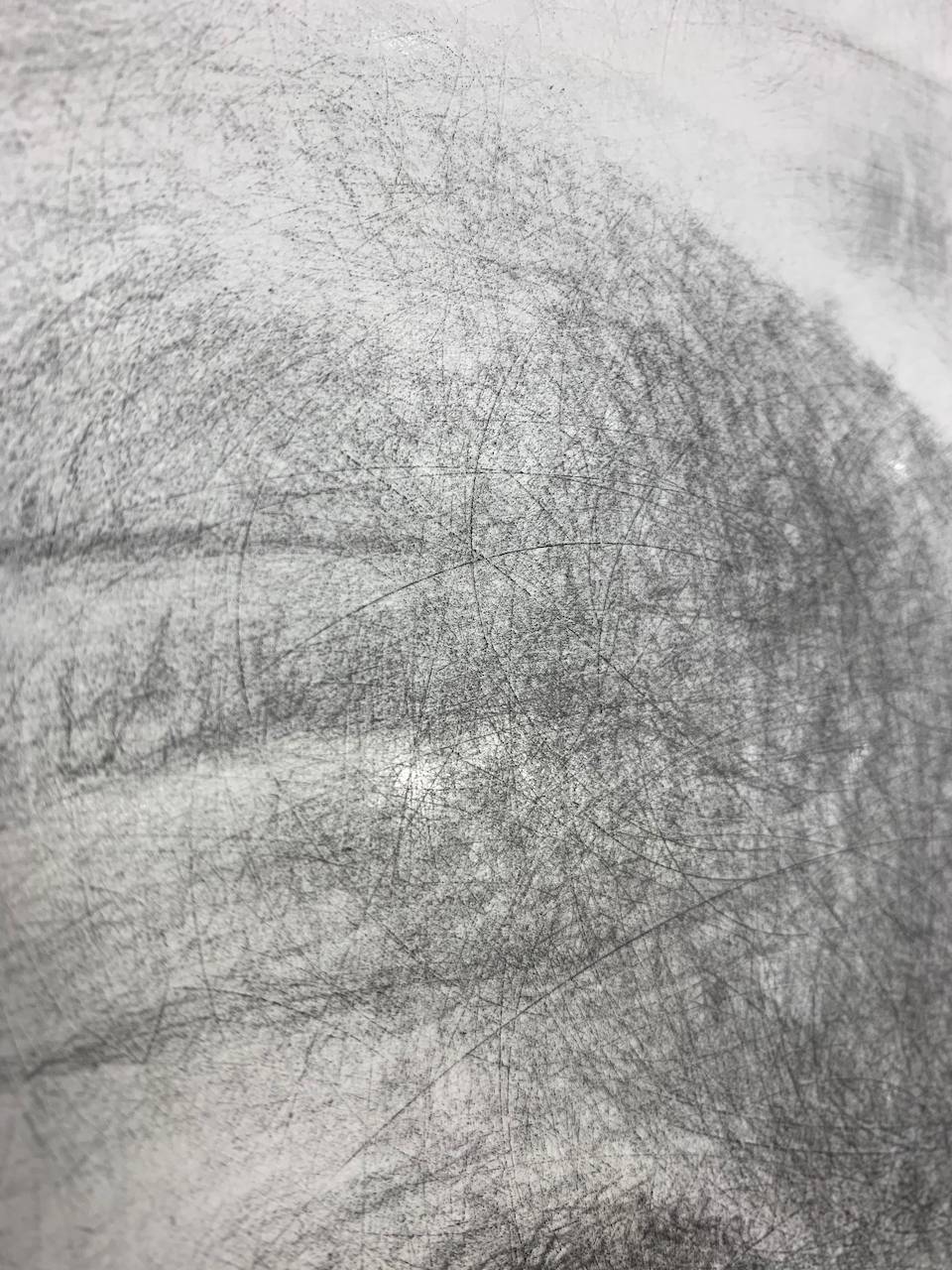 sanded drawing flat
Sanded Surface 2nd drawing pass
sanded film detail fingers
sanded film detail fingers
sanded film detail hand 7
sanded film detail thumb 9
sanded film detail shirt 4
sanded film detail shirt 6
sanded film detail right eye 11
sanded film detail forhead 12
A printed image enabled comparison of the high contrast ink marks with the drawn originals which had a wider tonal range. This is borne of the breaking down of tone into multiple irregular dots which is similar in concept, but smaller and less uniform than photomechanical half tone dots used to print photographic images.
Viewed from a distance the portrait reflects the character and breadth of marks of skin surfaces, hair and patterned garment. Perhaps this may not be perceived as dissimilar to a drawing on mark resist. However on close inspection the marks embedded in the sanded motion textures recall the making. While the modelling of the image is created through the drawn marks, the sanded marks do not contribute figuratively. In fact they counter many of the shaping marks. However, they add a vibrant contrast and abstract patterning to the figurative and offer up a materiality of the image and it's making.
---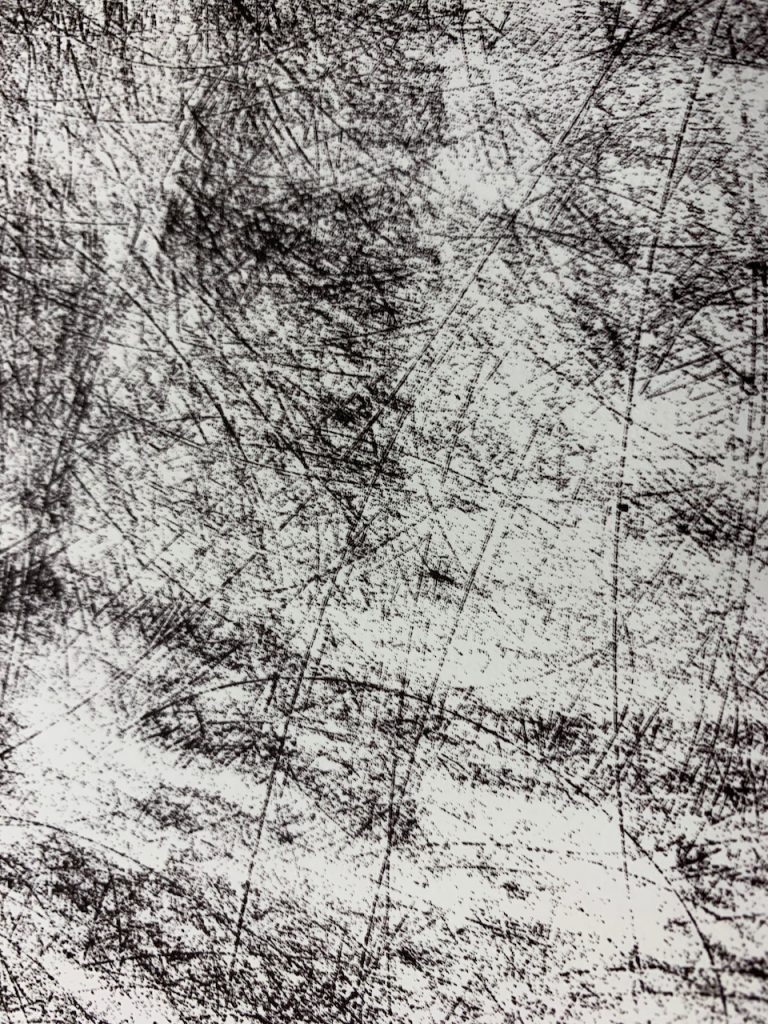 The area of the image that had not held the sanded marks is the impressive beard which has been drawn with strong dark lines and bright highlights exacerbated with scrapes made with a sharp blade. These marks have overtaken the subtleties of the sanded surface. A final comparison was made by removing the background. An unexpected element that was retained, but has no reliance on the sanded surface, is the single line around the image. This is not drawn, but is the exposure of the edges of the 120 micron film that has left its trace to frame the portrait. This unique delicate line is in contrast with every other mark on the print.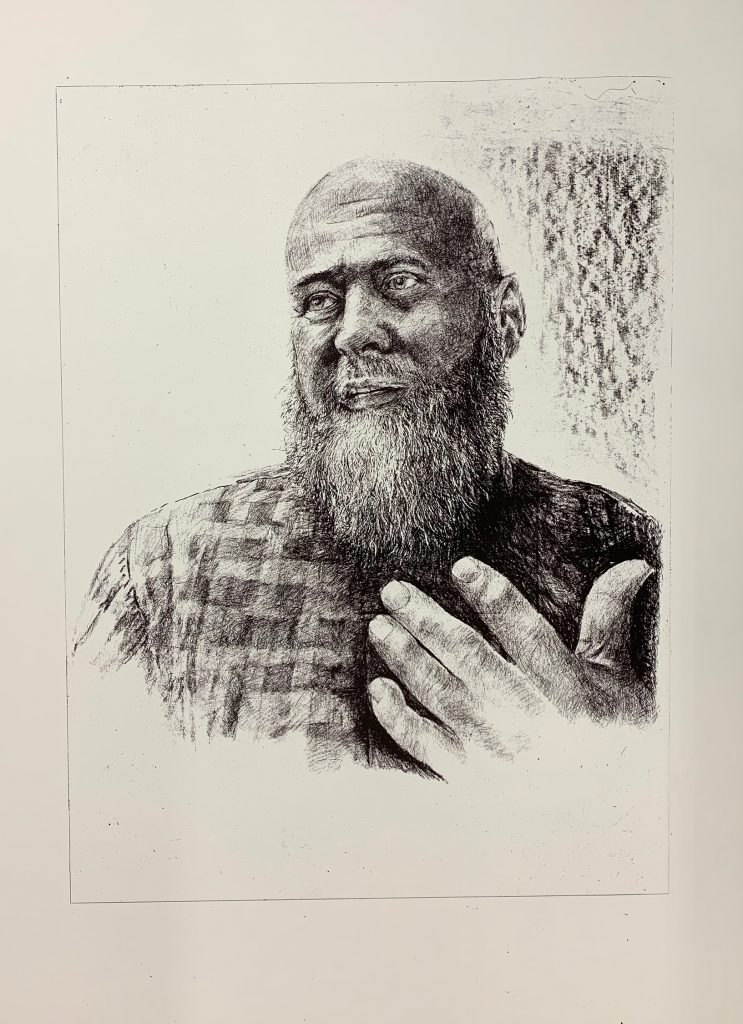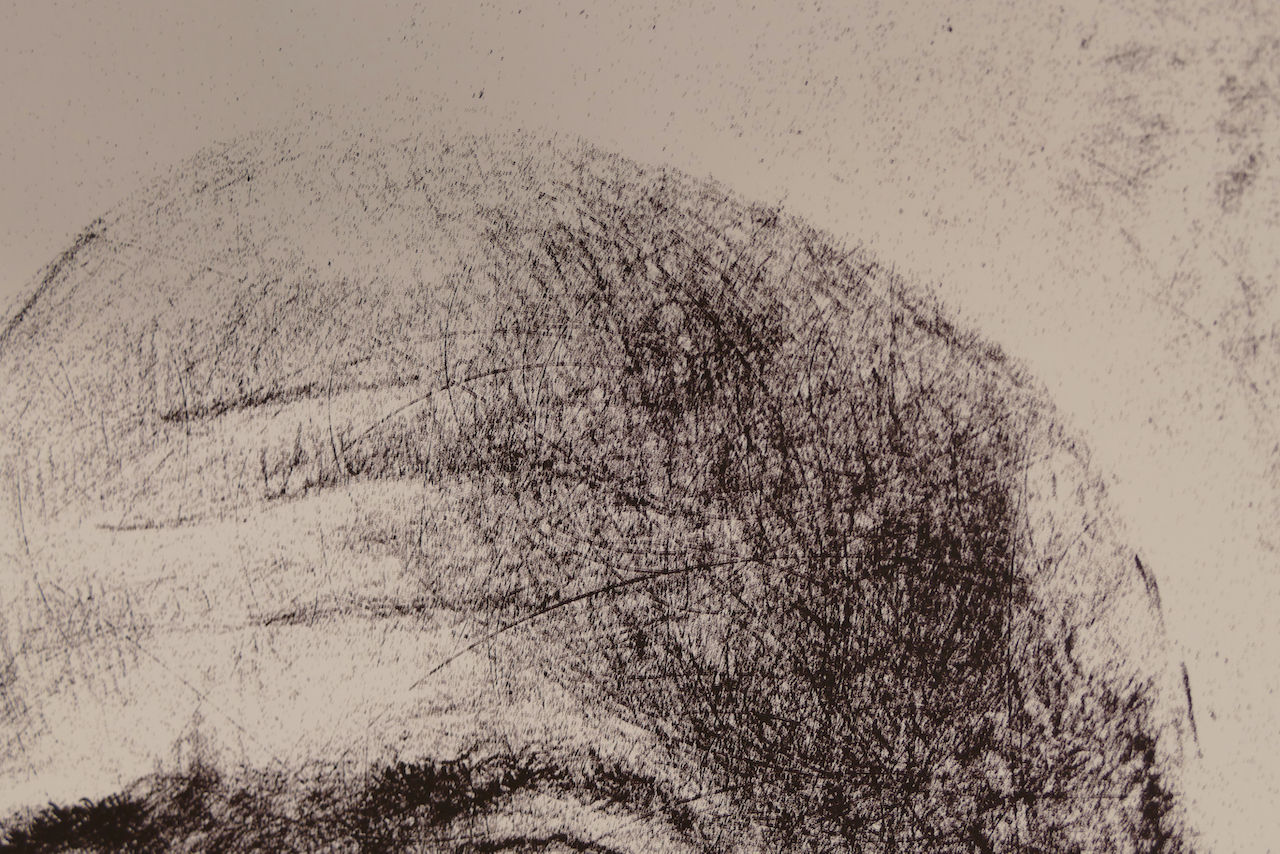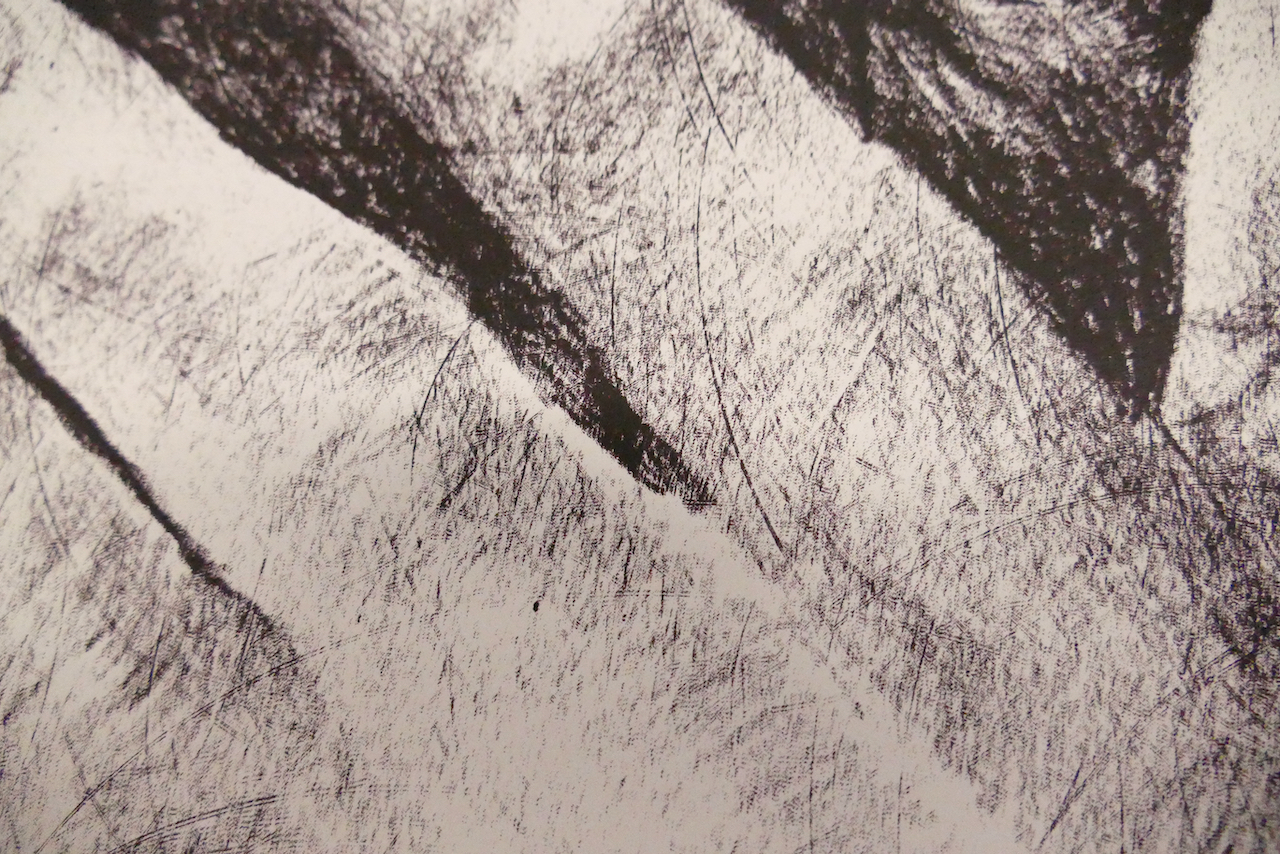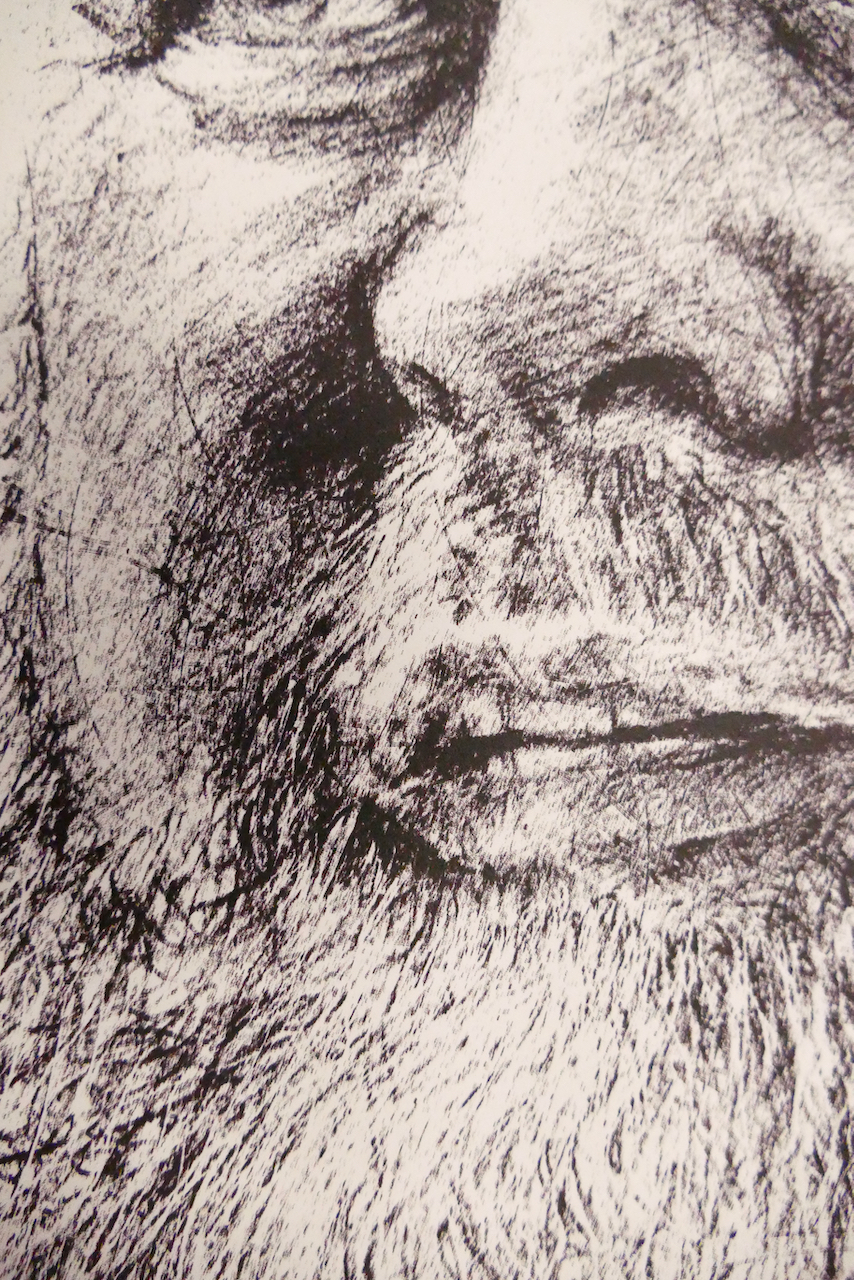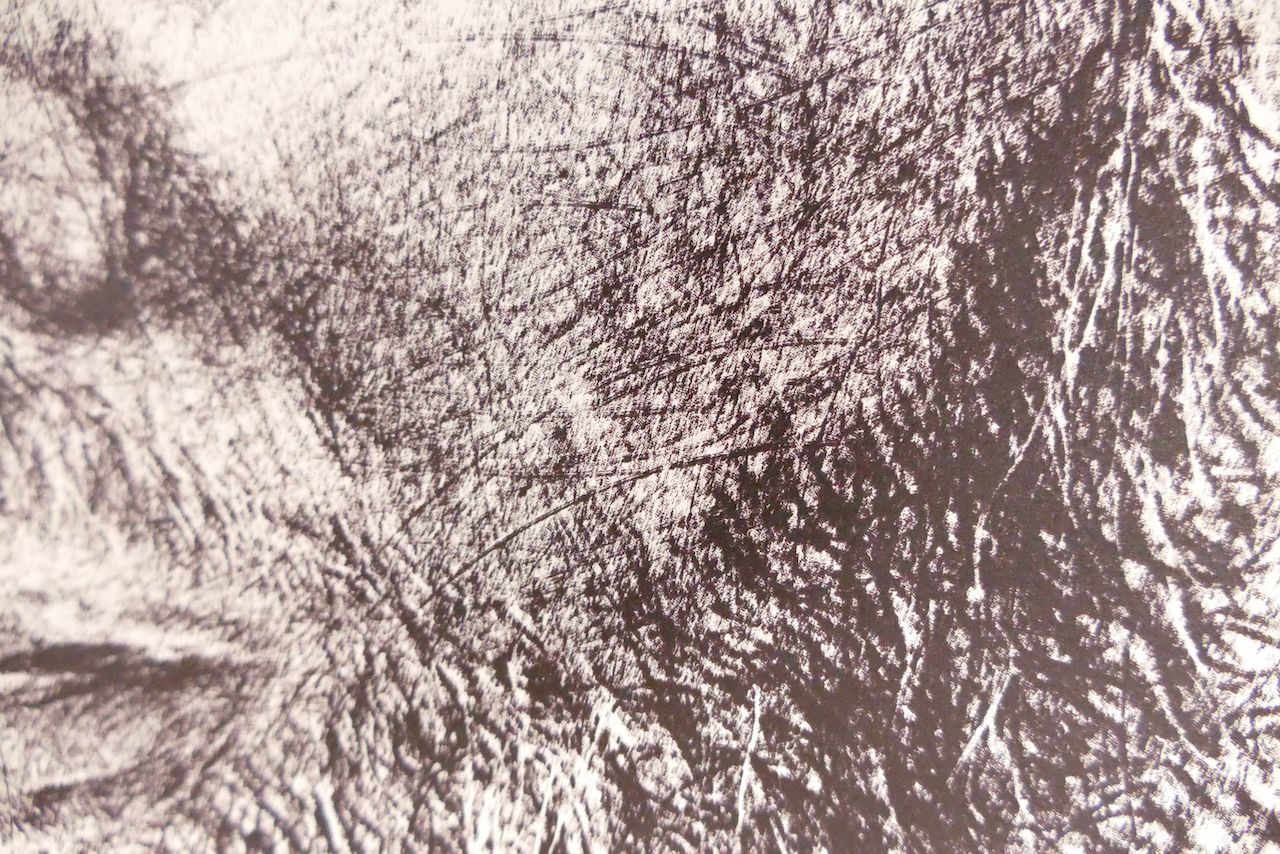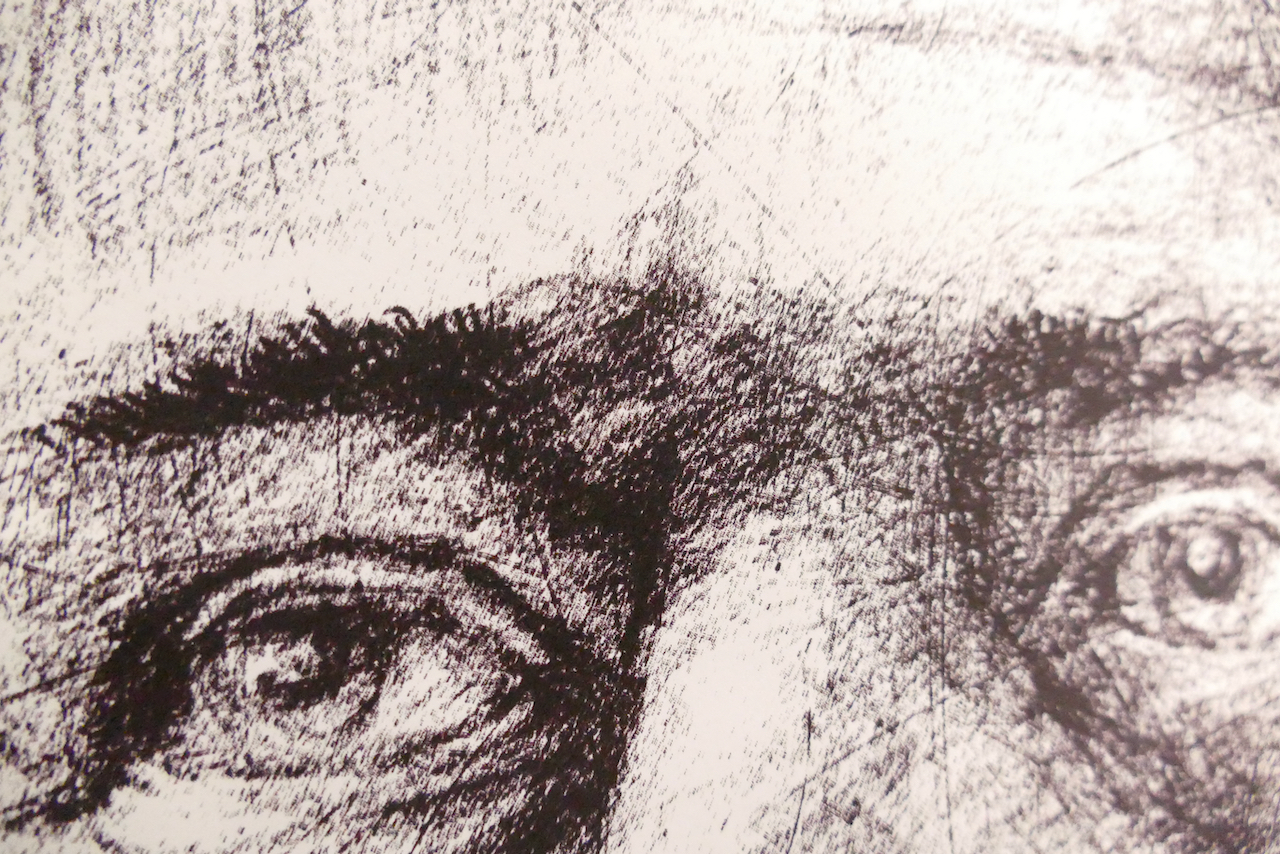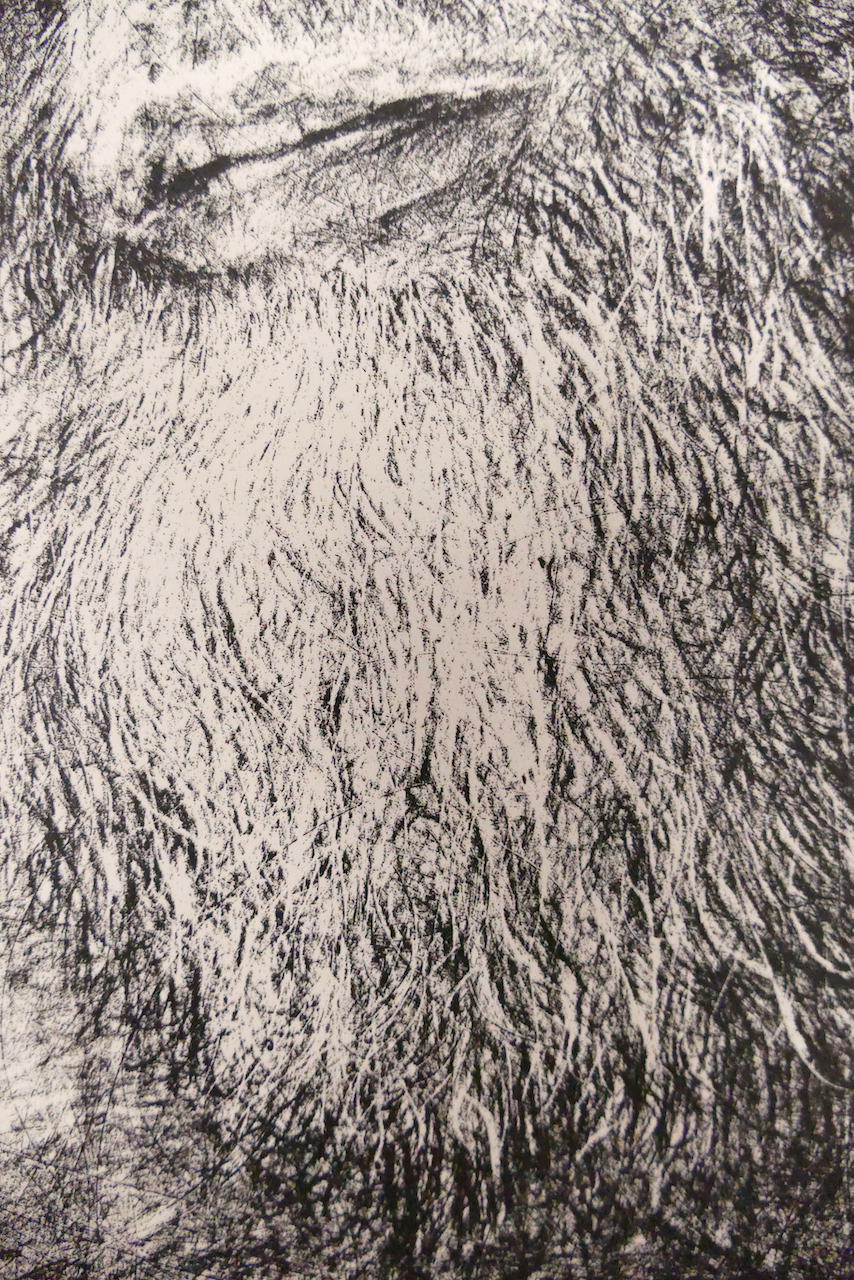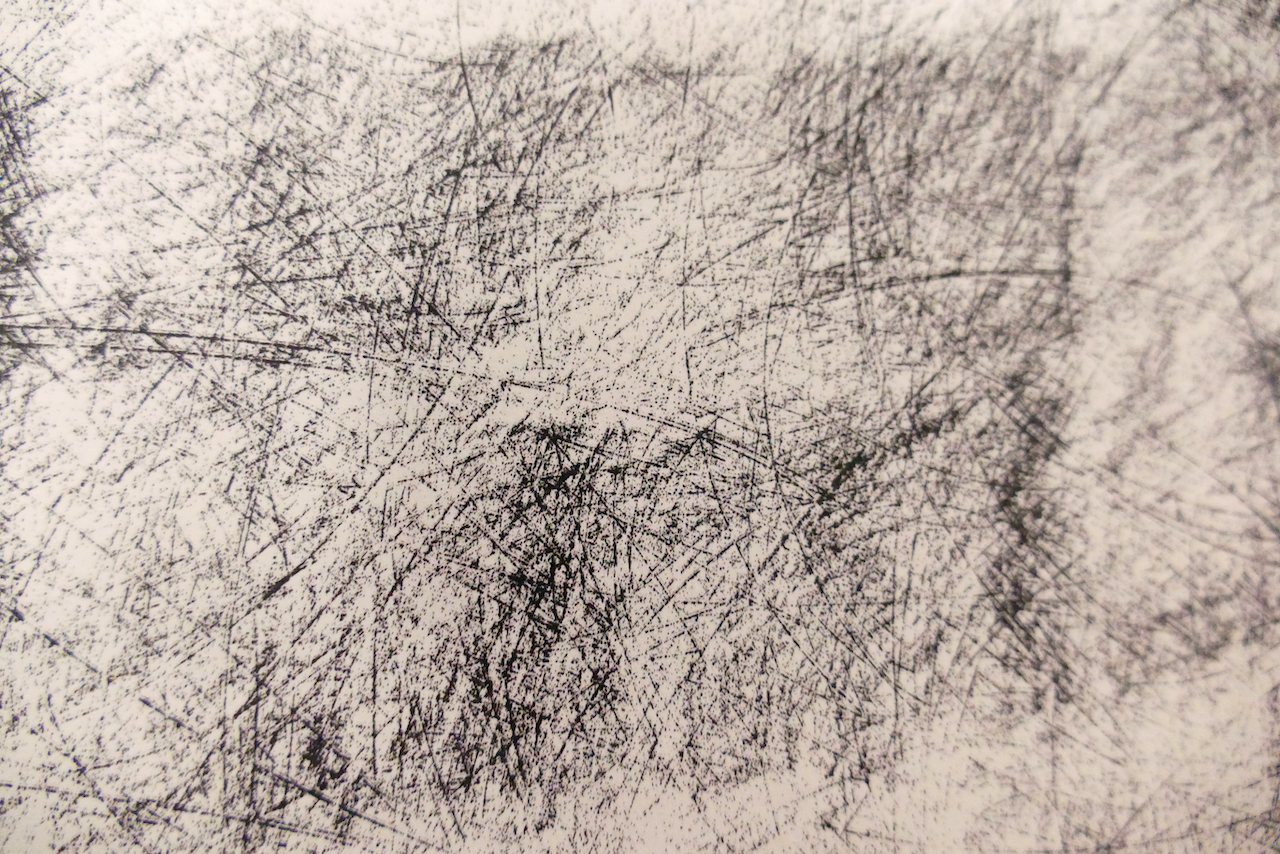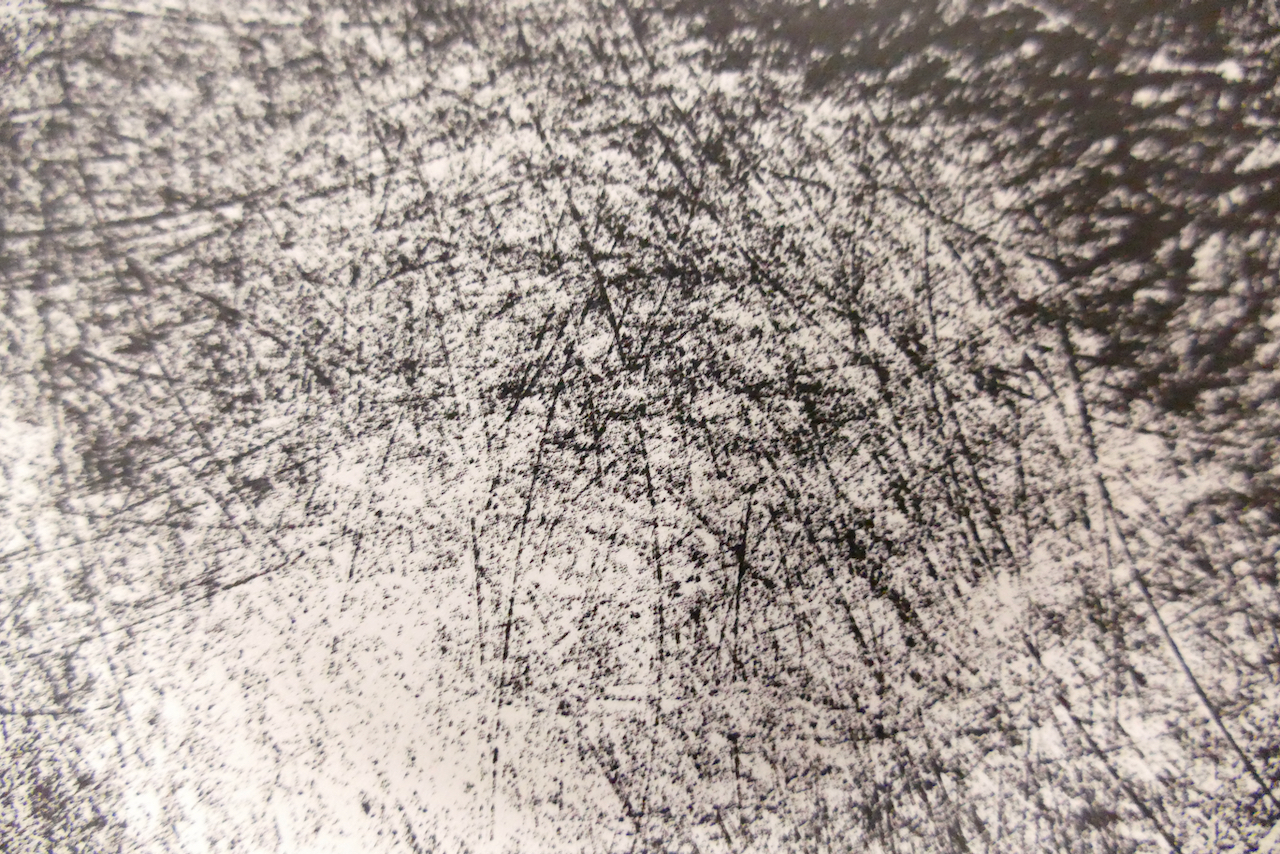 Slide 6
Sanded surface tests (hi res details)
---
---
I showed the prints to Mohammed who suggested I share with Rashid as he was in quarantine following a trip to support Syrian Refugees in Lebanon. I sent a WhatsApp.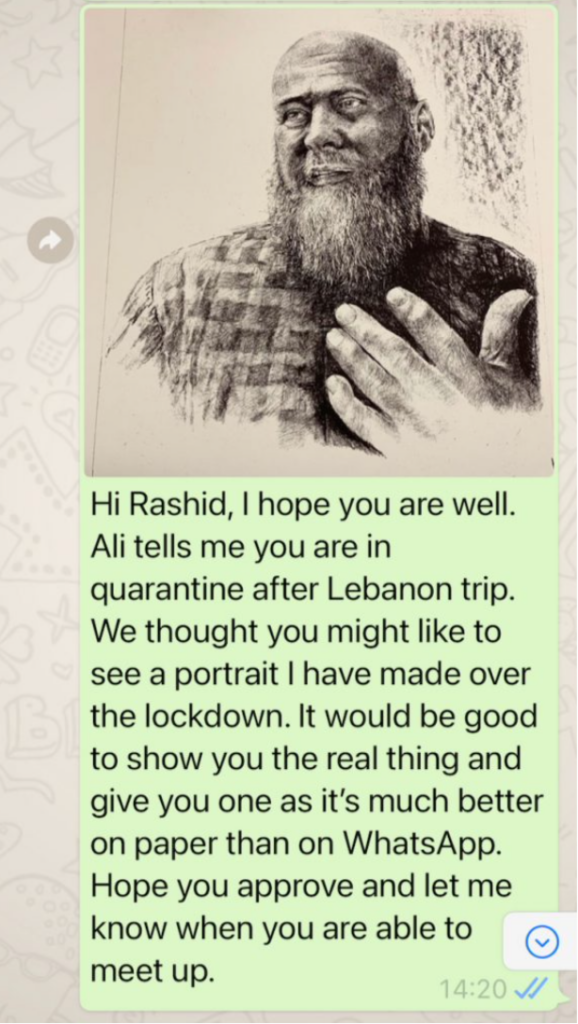 Instantaneously a voicemail message pinged back:
Wow hi John wow. I'm lost for words I'm honoured, flattered and I've got the same shirt on .. its my favourite shirt .. I'm just on the way back from Lebanon on the train heading towards Birmingham and that looks fantastic. Inshallah. After a couple of weeks of quarantine we can meet up. Thank you very much mate. . .
I'm just looking at it now ….. I describe myself to people, or people describe me Rashid as a grafter … and I think you've caught that in this picture and that's how I like to consider myself as a grafter, go out there and do the work. Get it done. I can see the labour on my face. I love it.
I think it's got a bit of a Paul Newman Cool Hand Luke to it with the blue eyes, I mean obviously you've used pencils and stuff but you've captured the blue eyes brilliant. Fantastic.
We arranged to meet when Rashid came out of quarantine and Lockdown measures were relaxed in December, but had to wait until March 2021 to meet in the studio.
I turned over three proofed prints and invited him to choose his preferred image. He selected the print with most background. We discussed what to title it and agreed on 'Rashid in the Flow' to reference his love of Hip Hop culture. His hand is in the flow as he makes his point. I titled, stamped and dated the portrait and we counter signed the consent forms.
Rashid announced he was heading to his Mother's house and would present the portrait to her. It seemed the portrait is a proud recognition of himself. An intention that I was happy to have facilitated through considered, but unpredictable means.
Later that night I received a surprise video from Rashid's home where he asked his Mother to open the tube and see the portrait. She was surrounded by her family to whom Rashid explained how the portrait had come about. The dialogue between the family is heartwarming and a positive justification of making portraits from discreet photographs for retrospective sharing and consent.
Postscript:
From Somewhat Considered
to Completely Unpredictable
An unforeseen, impromptu sweep in the print room, with a small squeegee charged with gold ink on to a sheet of cartridge paper was left to dry for two weeks, awaiting an unknown imprint. The ink hardened into a surface that may be printed upon, even though the sweep's irregular edges stood proud from the paper. By positioning the gold arc under the silk screen of Rashid's sanded portrait the resultant print follows the trajectory of the thumb. The illumination is intriguing. Under the dark ink the gold shines through, while on the white paper it moves between flat, bright, reflective gold to congealed reverse embossed ink, encapsulating the action that has created it. The reverse emboss created a sweeping ridge that delivered a dark curve, with a secondary shadow glow. A wholly unforeseen combination that had created an additional flow to a now singular unpredicted portrait.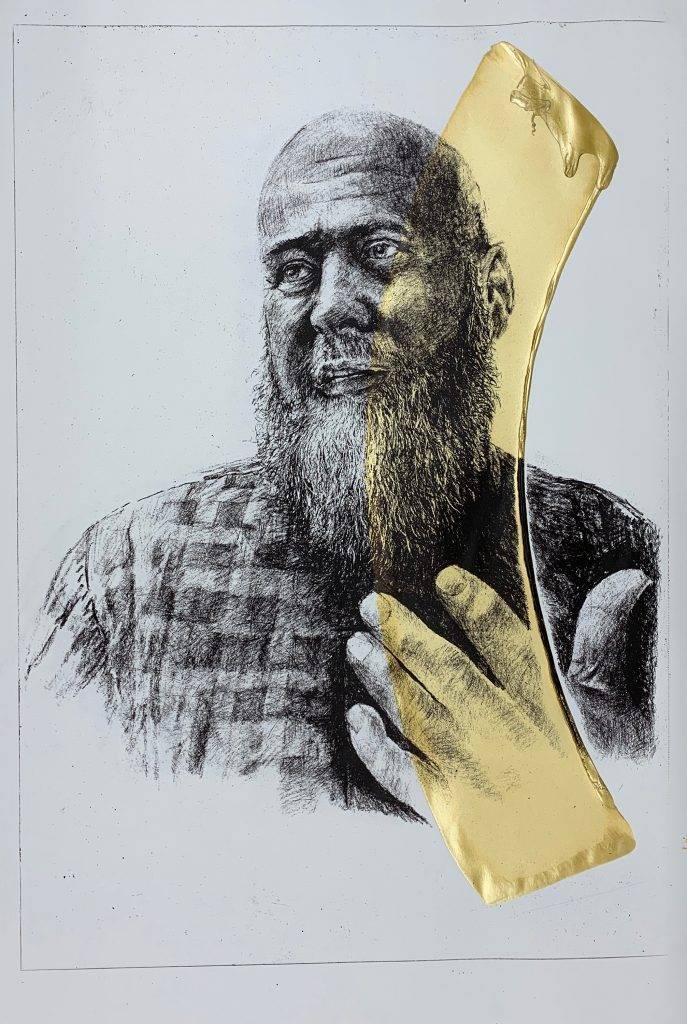 A presentation to the Uncertain Knowledges. A Material Encounters research Cluster Colloquium on July 7th 2021 is downloadable from this link:
Video recordings of film sanding.
---