Making this print has been an inspiring, surprising and enjoyable journey embracing a new technique to create an analogue drawn print from an original digital photographic image. When visiting an Arts Centre I noticed a young woman with head on a table concentrating on her phone. I was drawn to it as an image that captured something distinct. It was not a usual position to take up in a daytime situation.  It felt as if the young woman was in her own world and the light from the window illuminated her concentration which was in turn illuminated by the phone she was gazing into.
I went on to make a serigraphy portrait from the phone photo and memory of the moment. Through a series of queries to people who manage the Arts centre an email from me reached a young woman who had volunteered there at the time. I had requested that my email, with attached jpeg of her image, be sent to her with an offer of a print, if she so wished. I was happy to receive a message from 'Nav' who was really surprised to have got the message:
"This is insane and so random!! It's beautiful. Please say more."
Jonnie: "Im glad you like it. It is a bit random, but I saw you concentrating on your phone in the MAC window light and thought you would make a good portrait.
If you would like to see, and have, an original I'd be happy to get you one."
Nav : "Super cool! I'd love one. It's so crazy to see that when you're own world like that, you can inspire someone to want to create!"
I was happy that we had connected and that Nav had seen something valuable had occurred by my making the print. I hope that anyone who I make a portrait of will enjoy and find it valuable. To be able to locate the subject of the portrait that a I did not know, and hear she more than enjoyed it was heart warming. It filled me with anticipation and some trepidation about how she would see the reality of the print on quality paper, colour and the marks that I have made to reflect her.
We eventually managed to arrange to meet in a cafe on  the evening of 21st December – 'I could be recognised by the roll of paper under my arm'. The cafe was lit with small lights throughout illuminating the warm brown upholstery and wall pictures. I looked around for a blond haired woman, but met the eyes of a dark haired person who indicated she was expecting to meet me. We smiled in recognition. I sat down and put the rolled prints on the table between us. This is a heightened meeting for both of us. Nav meeting the anonymous artist who has made her portrait and offered to meet and share. The artist meeting the subject he has spent many hours creating a portrait of, but not knowing her, and now in anticipation of how she would respond. We talked at first about when I had seen her to begin the portrait and what had inspired me to make it. I explained how I had noticed her, head laid down intent on the phone, and how I had remembered it when thinking what would be a dark background subject for the light out of dark approach.
Nav explained that this moment meant 'more than I could imagine' as I was considering big decisons about my immediate future, but  "Lets look. I'm excited." I unrolled the print in full view of the cafe, with trepidation. Nav was 'really chuffed'. It captured a moment of decision for her and her family that I was unaware of until now. I shared the single colour, the yellow and the subtle light gold and dark indigo brown print which we both warmed to. Nav paints and her portrait has inspired her to buy two canvasses to return to acrylics and follow her imagination.
It has been so rewarding seeking out Nav the, until now anonymous subject of this portrait, but to meet face to face and hear that it means more to her than I could have imagined at the time I began it, makes the work all the more important. The circle from discreet photography to drawn and printed artwork gives me succour for pursuing further serigraphy portraits.
As I leave, we hug and I promise to invite Nav to any exhibition of her portrait and wishing her much good luck with her canvasses.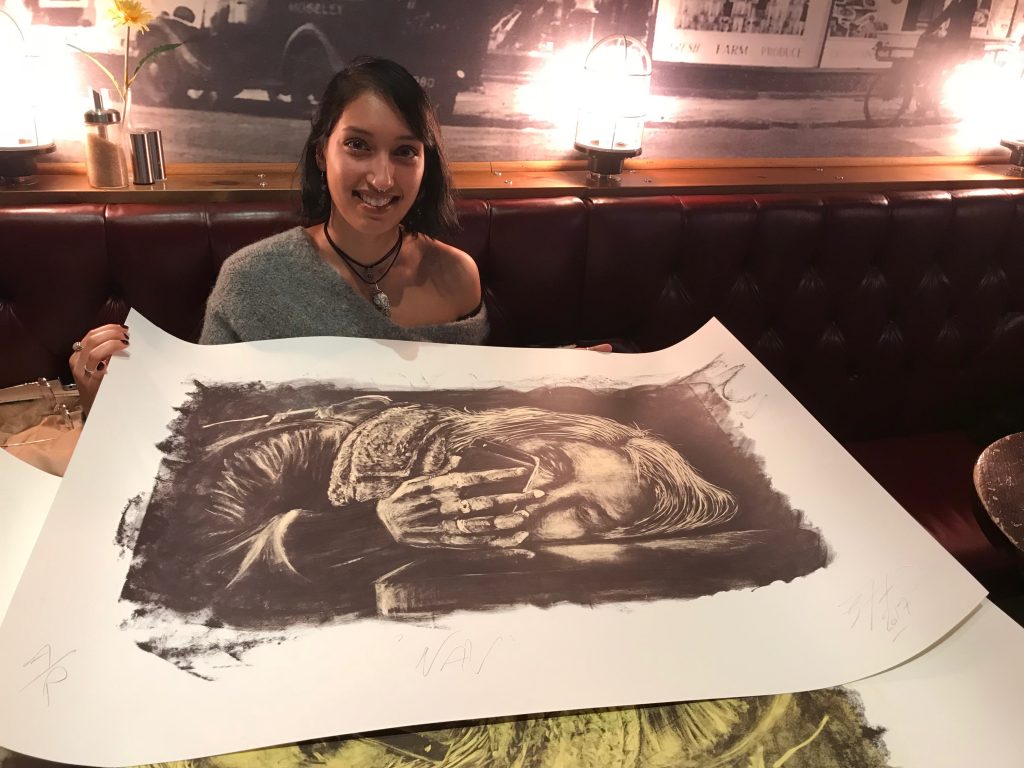 Later we exchange messages of mutual enjoyment of one of 'life's inexplainable magical moments'. She finished with this insight : "having that snippet of my life captured. I'm so grateful!"  The use of 'snippet' is so apposite. It was a short moment to witness and catch on the phone camera which began a much longer process to make the drawn portrait, which Nav now has as a reminder of her important life decision. Although the process and motivation to make Nav's portrait was a personal artistic activity to make something that reflects what I thought I saw and beyond that a picture of a person in a fully focussed mode, it is a genuine artistic act that means something to the subject as well as the maker. Both parties contributed and the artwork is testament to that.