I dropped by the IPS ( International Production Space in Birmingham School of Art)  that flowed from pieces from Bahrain Artists presented by the Bahrain based Ulafaa Initiative in the foyer.  It is a rewarding show with insights into how young artists are making their voices seen and heard locally and internationally.  I asked the curator Tamadher AlFahal about the show's origins and she invited me to the talk she was presenting (as part of her PHD) that evening and an open invite to a further panel discussion about the cultural production of the Arab Gulf that is happening on the 19th @ 5pm in the IPS :'AS NOTED/UNNOTICED' a part of "I AM KHALEEJI"; a series of events and happenings that offers prelude to the contemporary art scene of the Arab Gulf.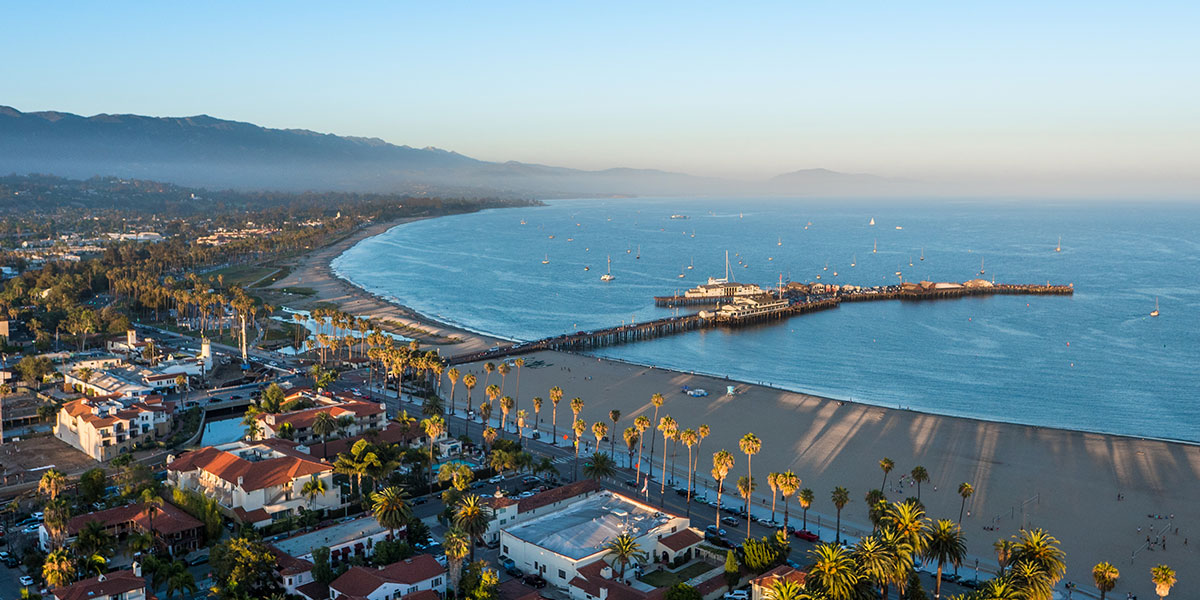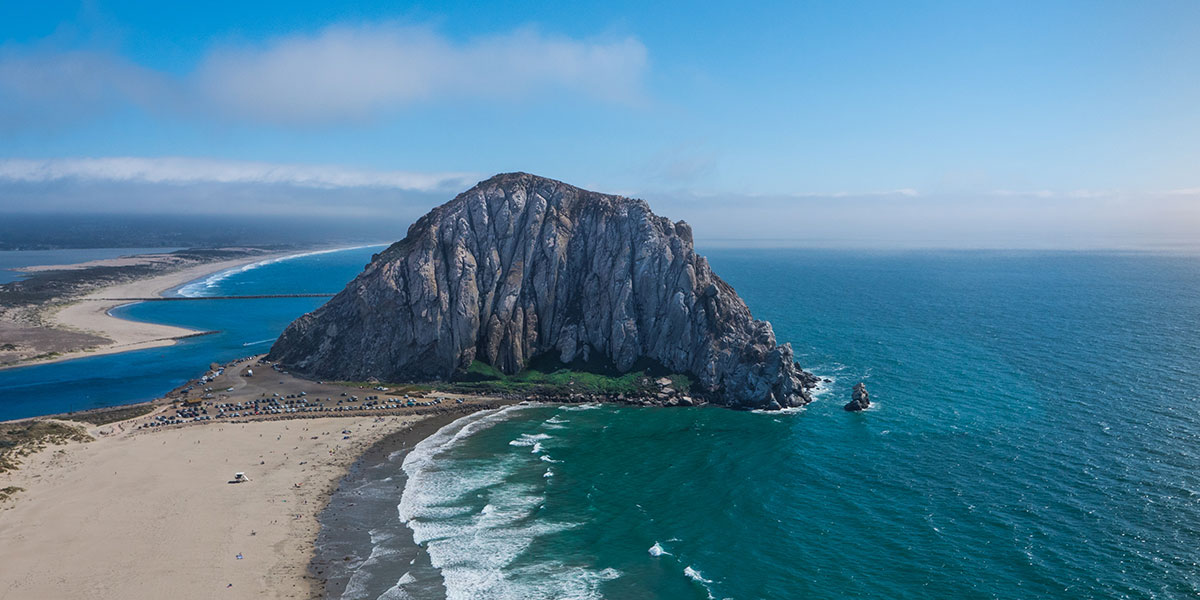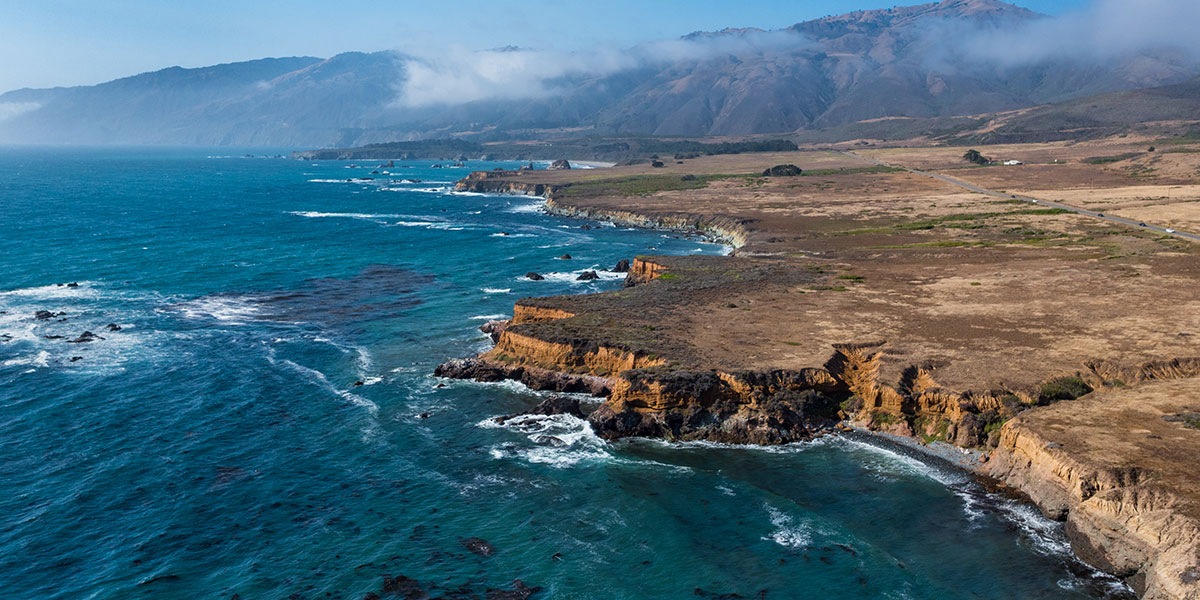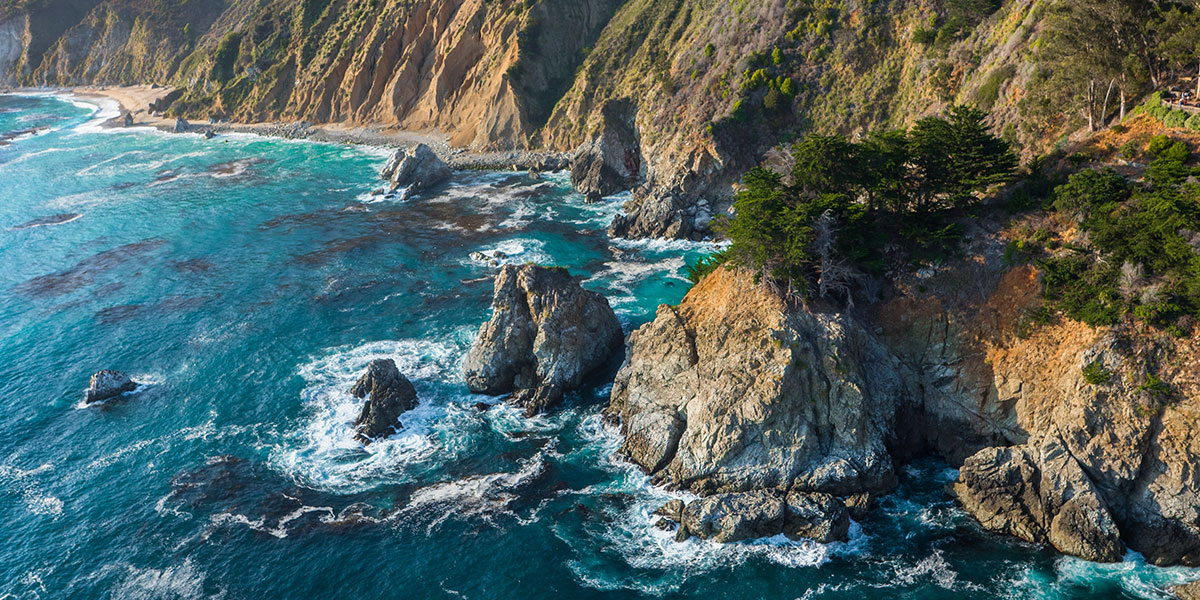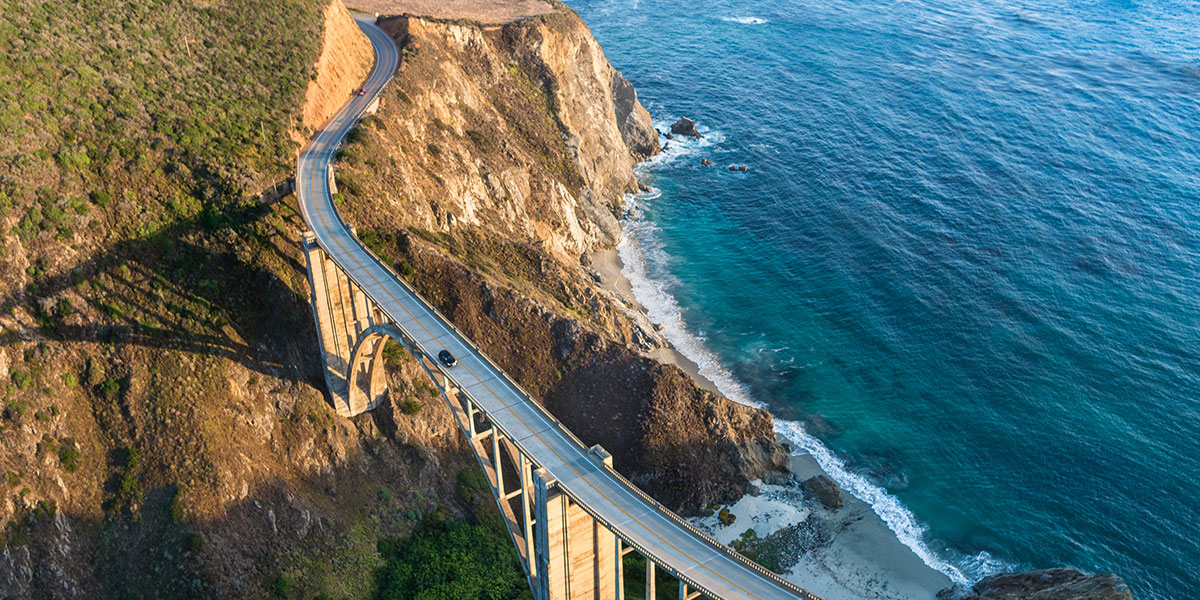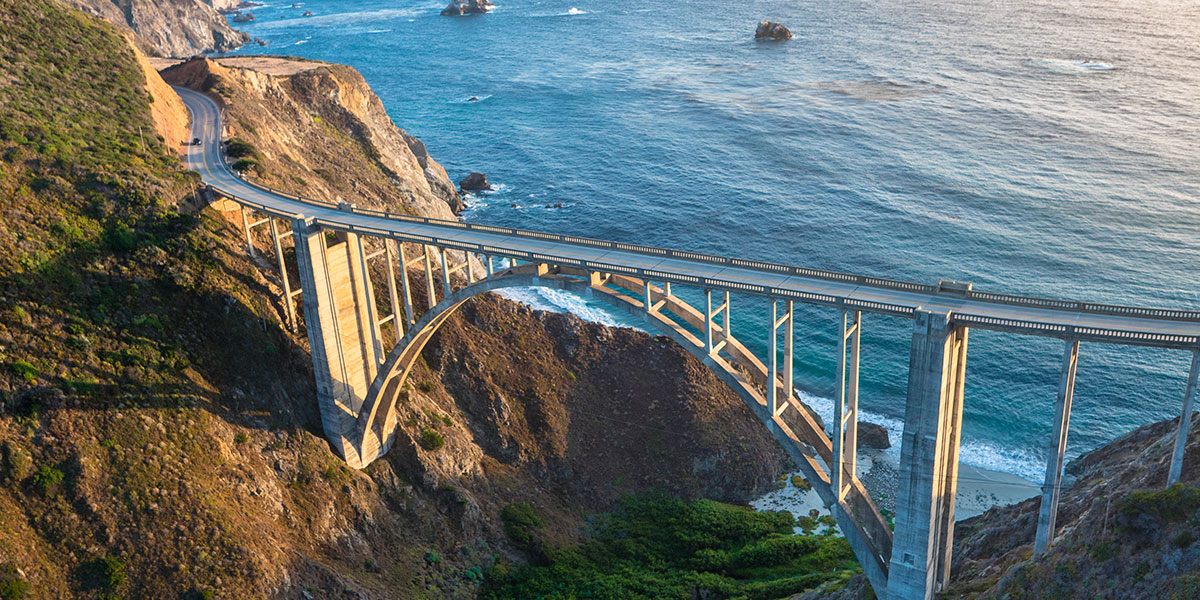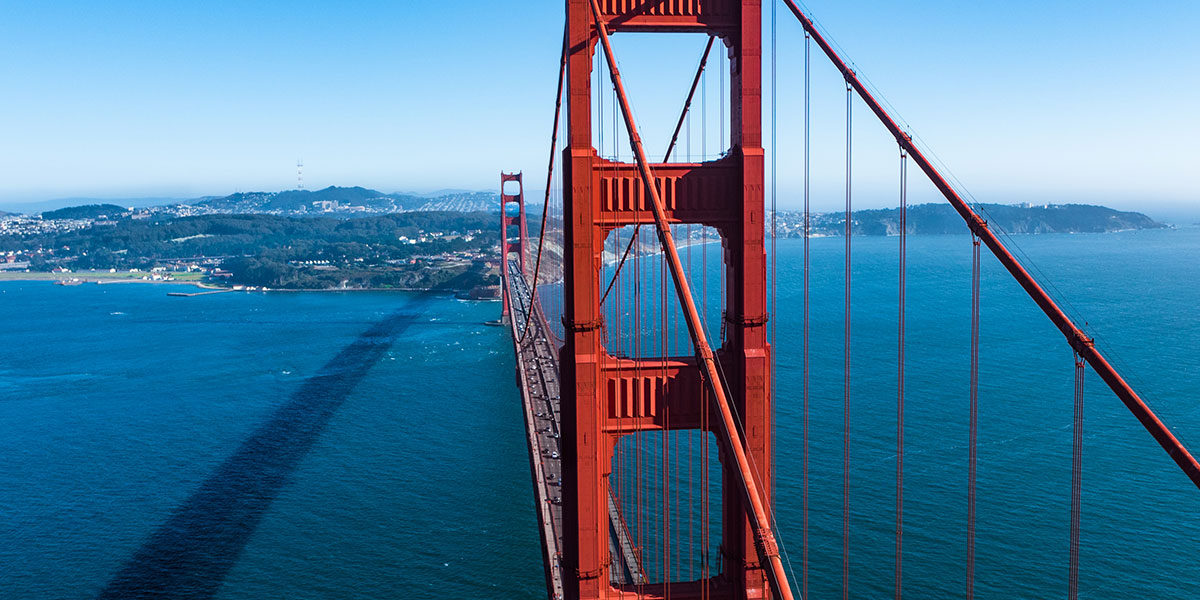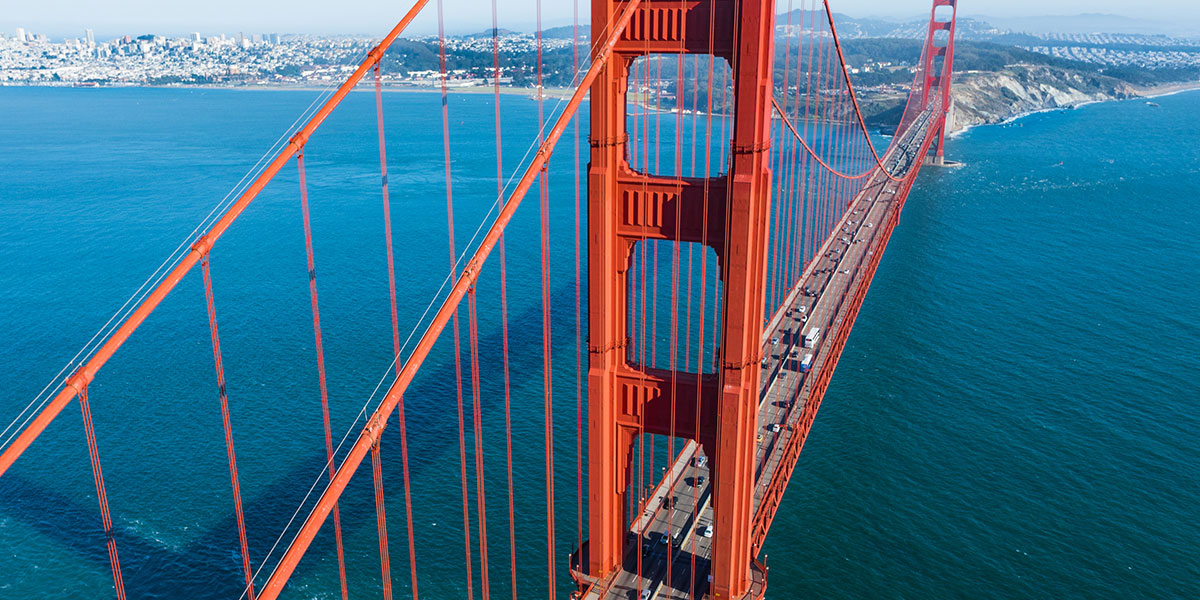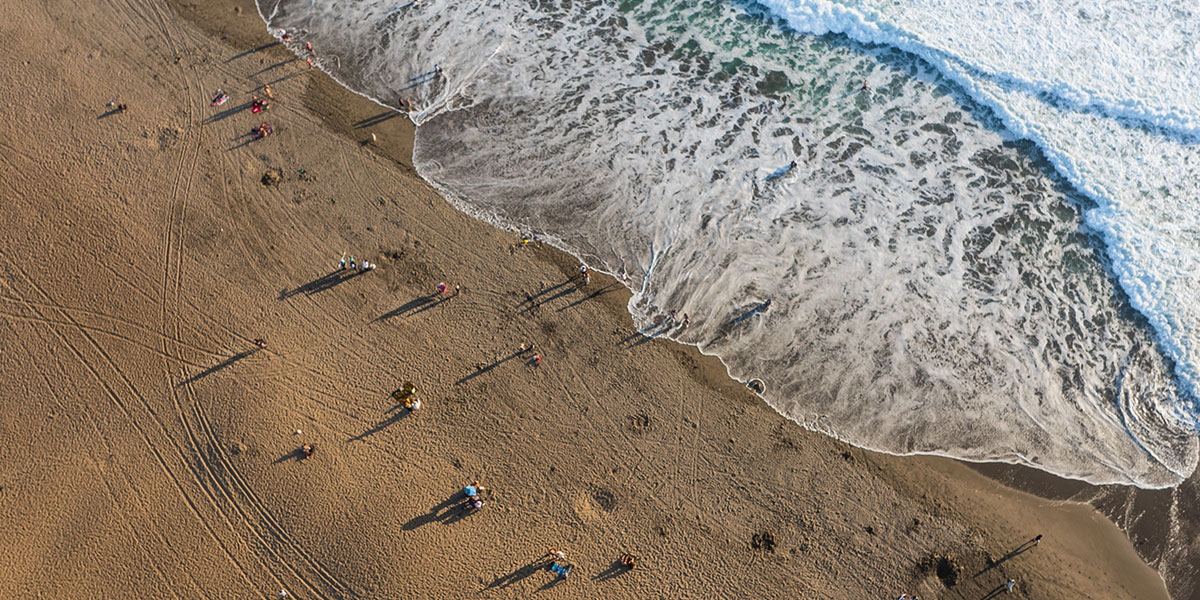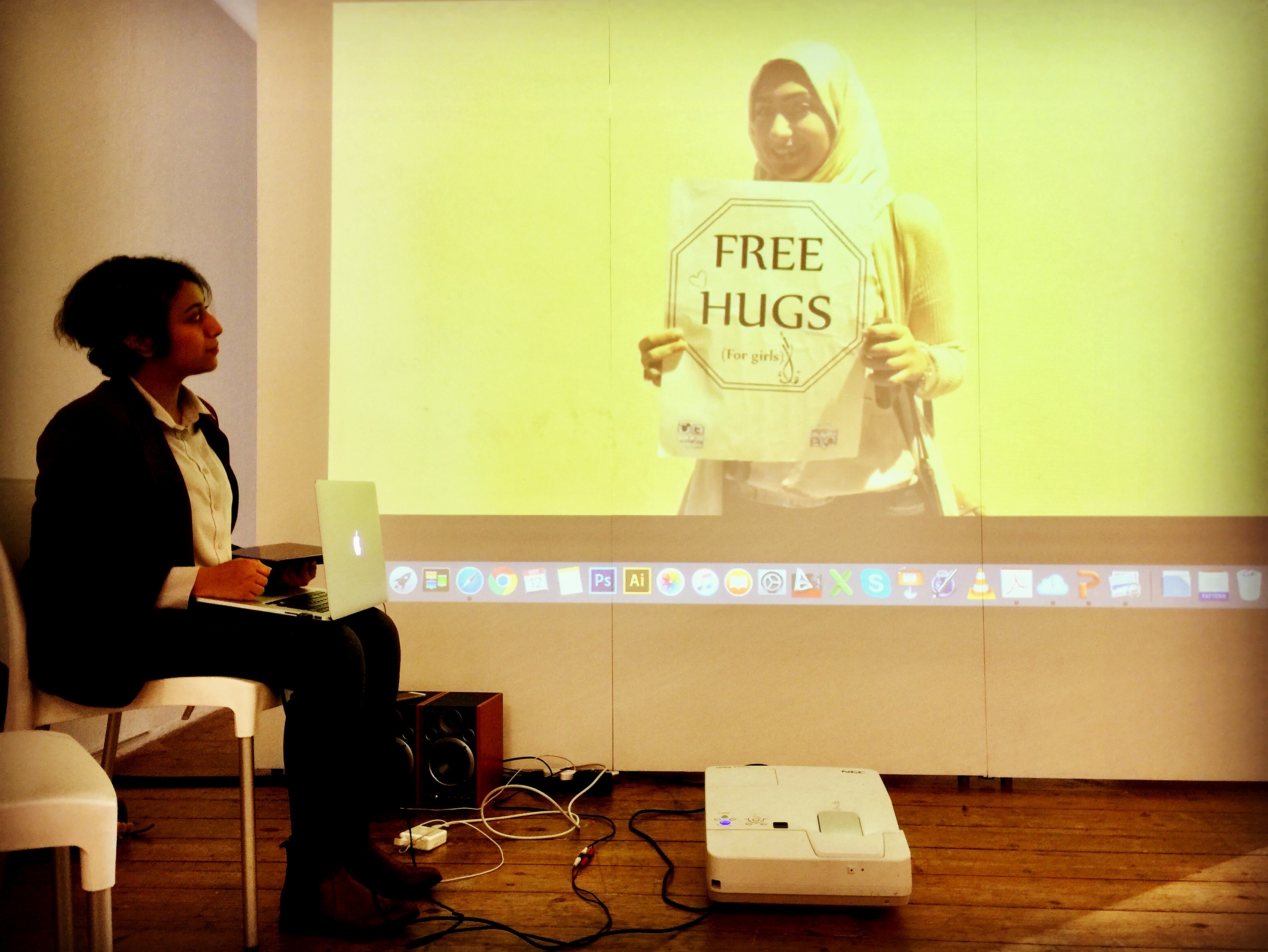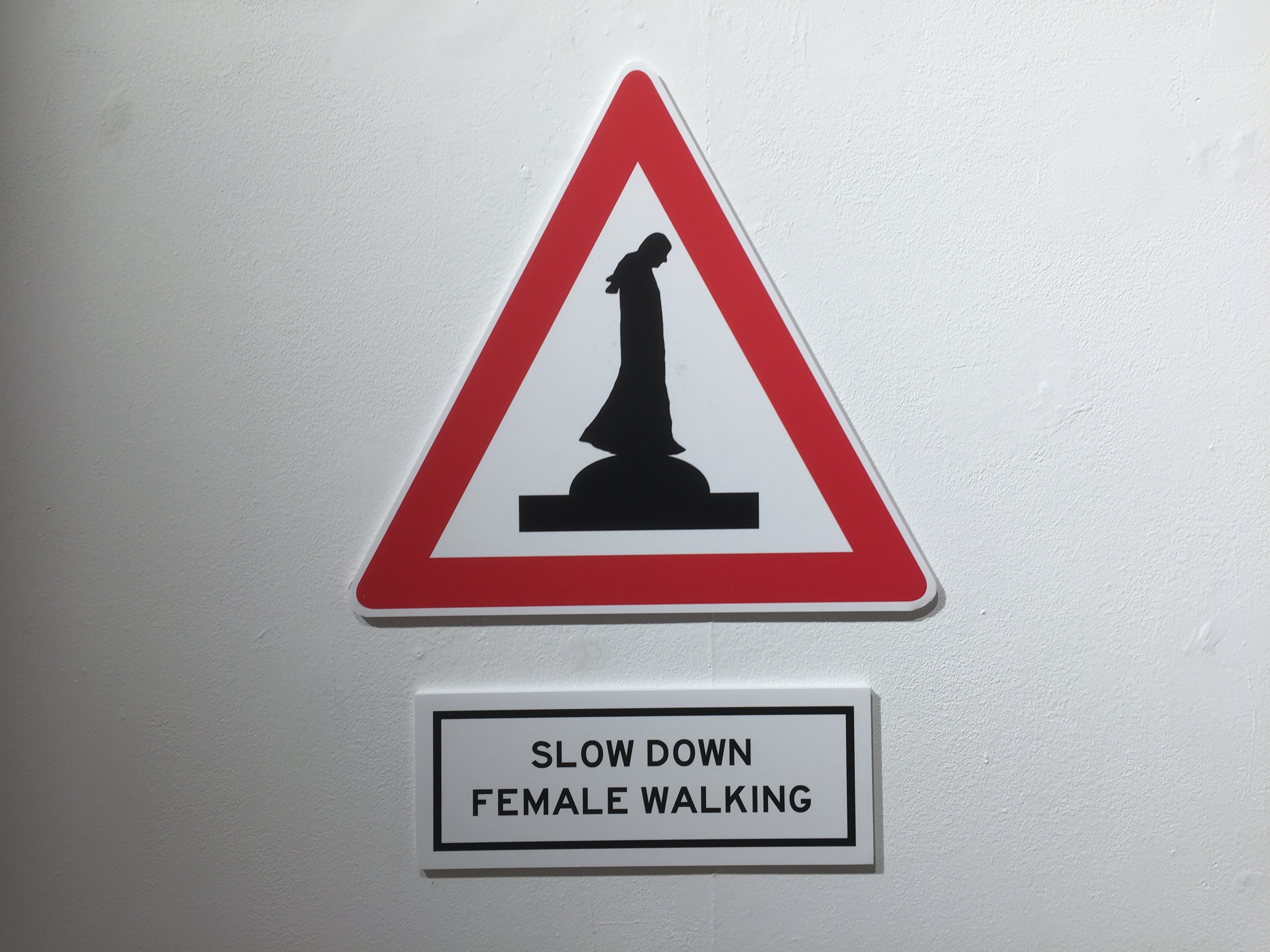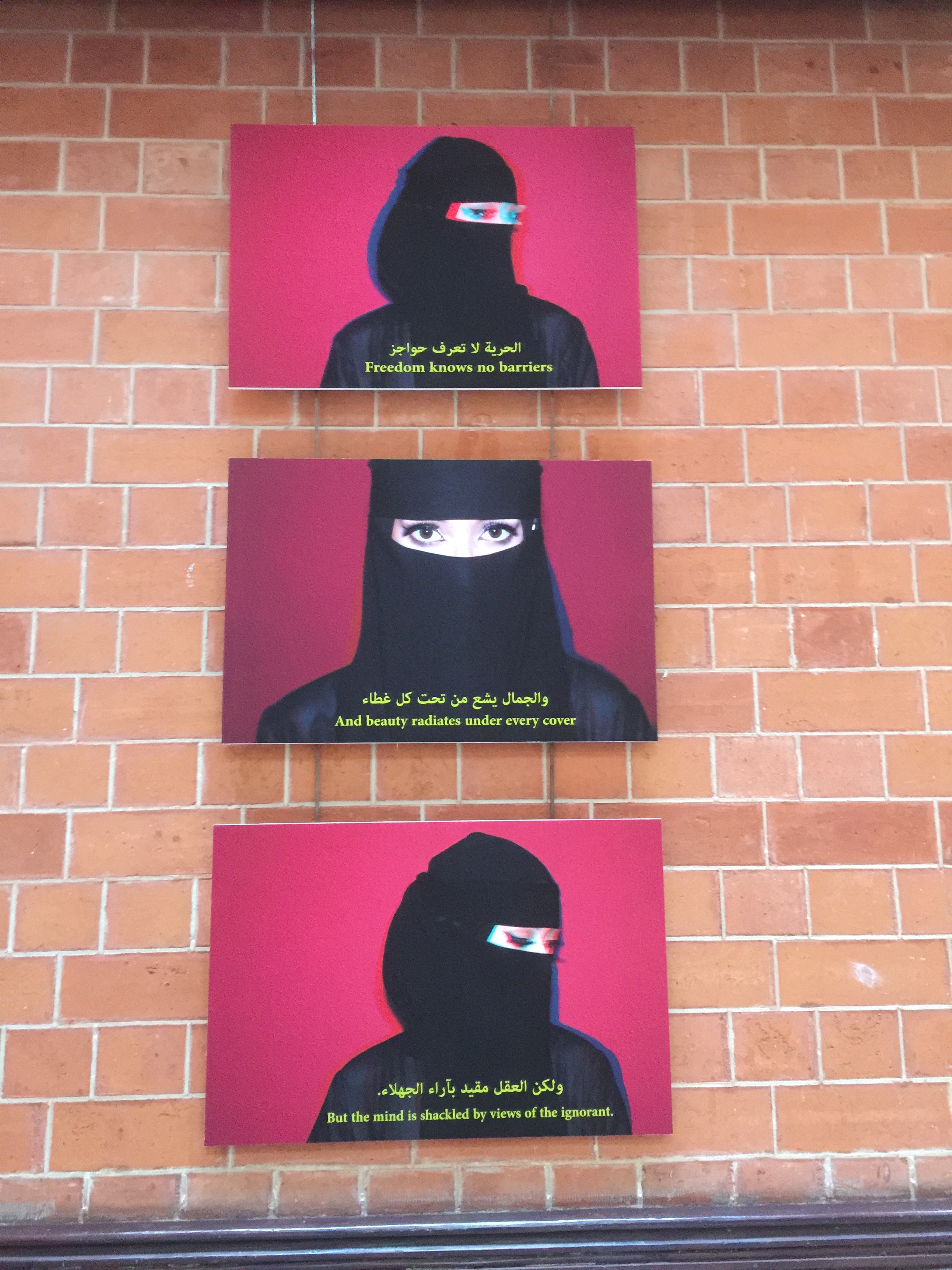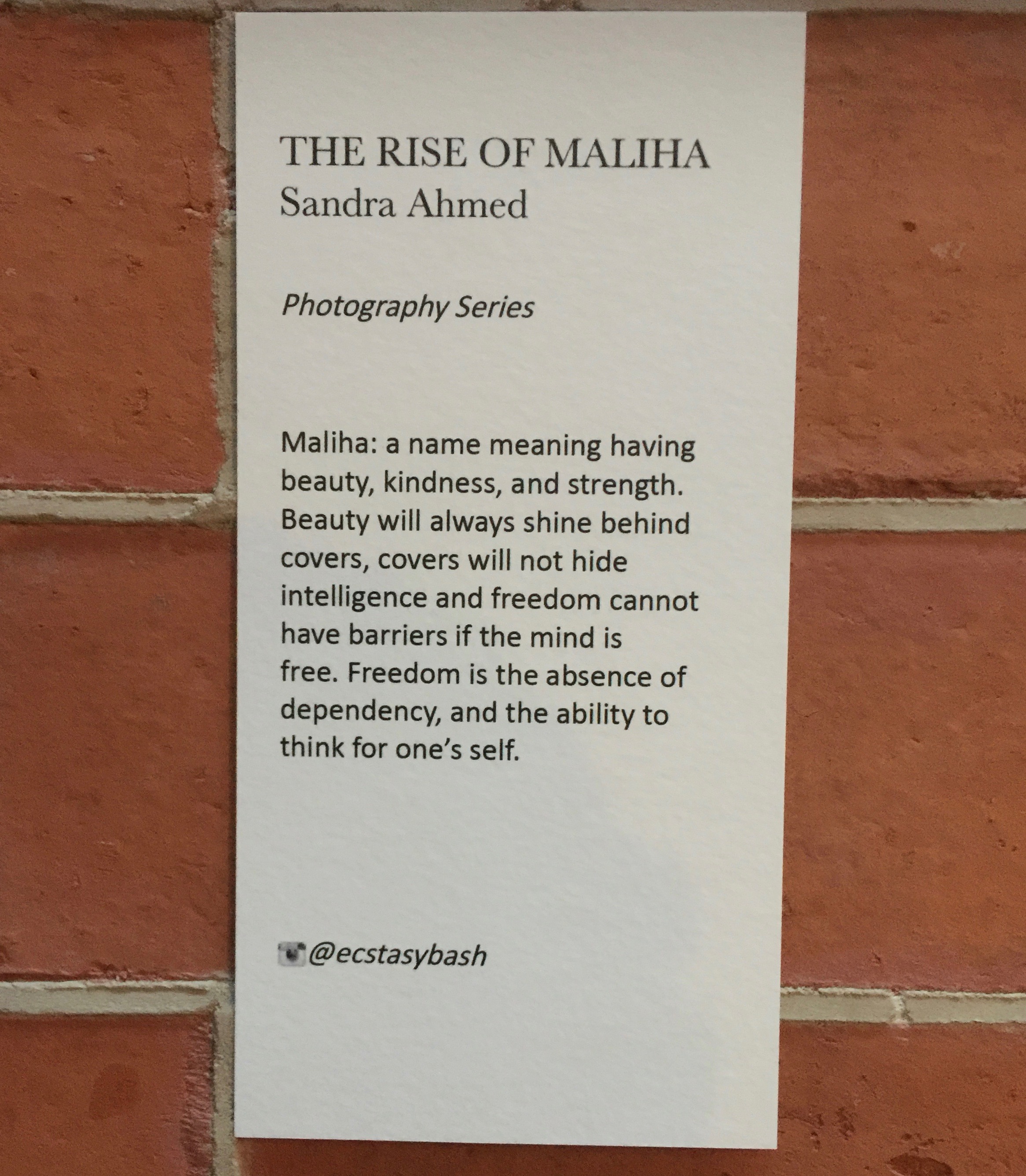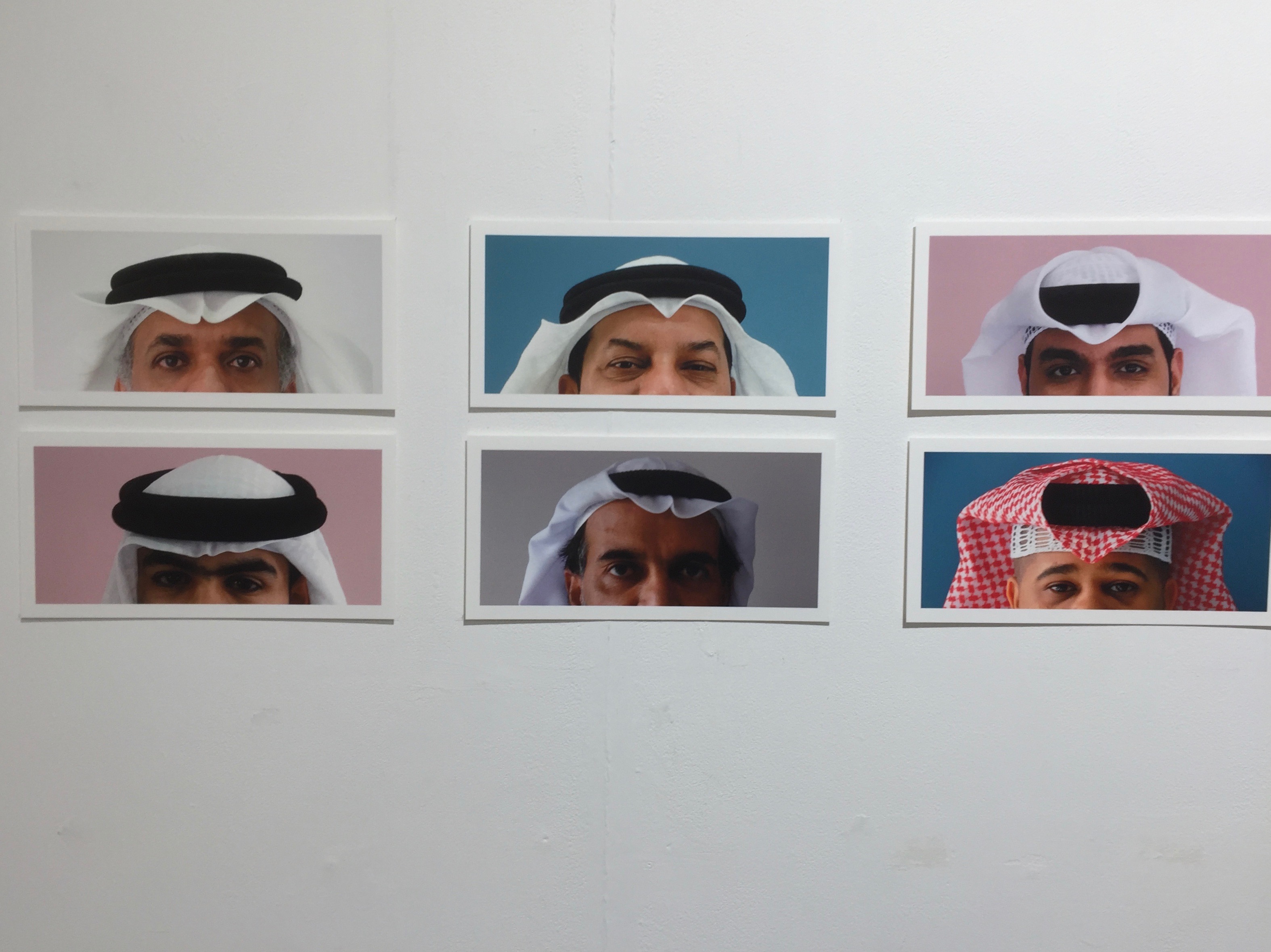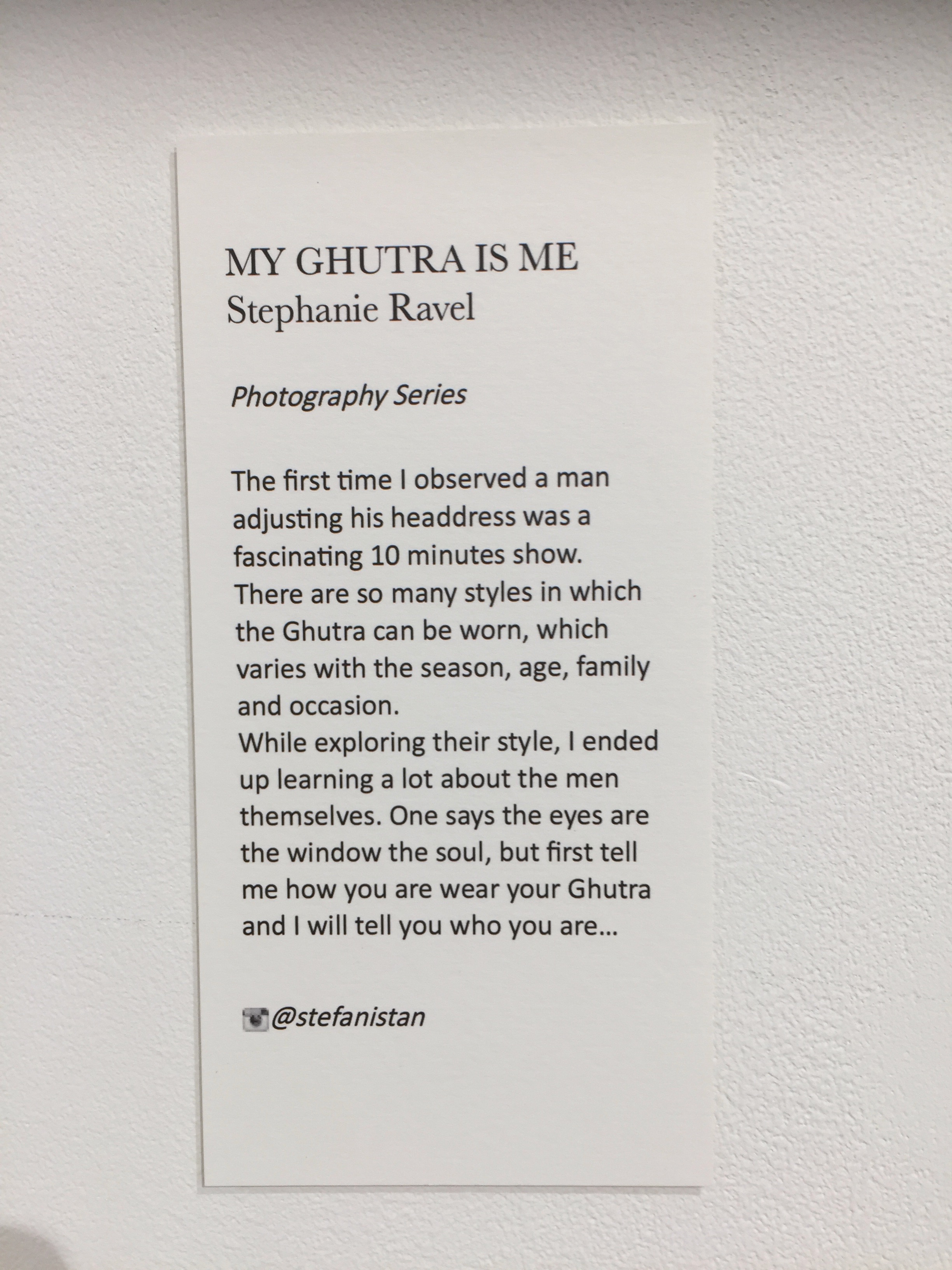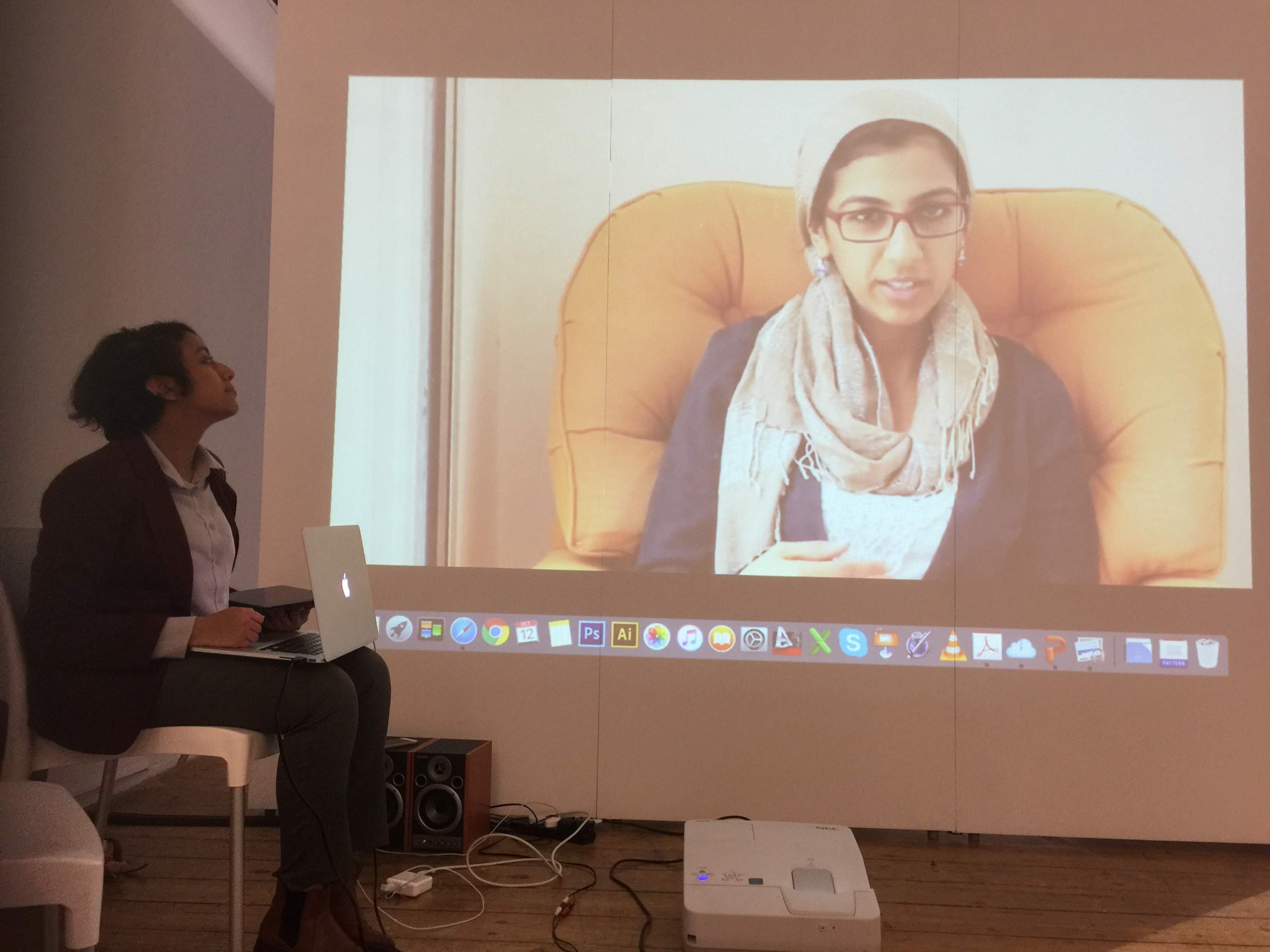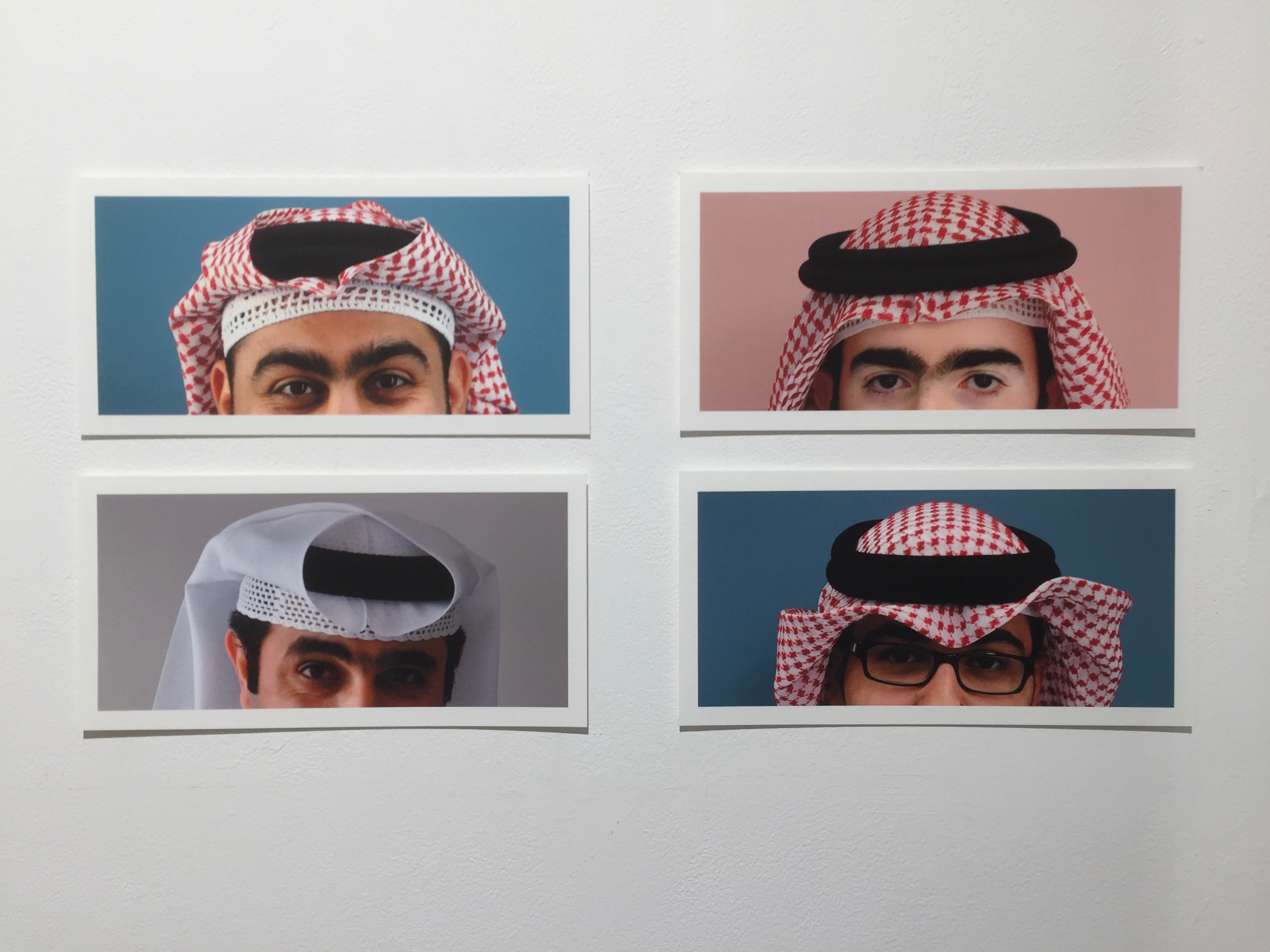 From the discussions  it is clear the art scene "within the Arab Gulf (or GCC) has been through a state of flux. Typically exposed to Western audiences, and the greater art world, as a strongly diluted stereotypical image of the Middle East. The Arab Gulf's distinctive art identity remains undervalued.
This project addresses the misconceptions of the contemporary art scene in the Gulf, it offers an alternative view that is diverse, unique and vernacular in attempt to understand its complexity and dynamics.  Specifically focusing on shedding light on the Gulf art scene as a distinctive voice within the Middle East. "
Issues of identity, religion, gender are clear in the work on show, but the range of video, photography, graphic and printed artworks are strong in their own right.  There are plays with sign posts (literally) and the two photographic/print based pieces – The rise of Maliha @ecstasybash and My Ghutra is Me @stefanistan deal directly with issues of personal image and identity in clever, creative and insightful ways.  'Maliha : a Name meaning having beauty, kindness and strength' and 'Ghutra' the traditional male headress and as one of the subjects told the artist : 'the eyes are the window on the soul, but first tell me how you wear your ghutra and I will tell you who you are……' Both pieces are portrait based although the whole portrait is not shown in either works. 
@ecstasybash' instagram bio is understated : "Photographer , Slightly Artistic, mildly photographic".  Her website also provides further insight into the inspirations for The rise of Maliha.
The show is also referred to By the Book @ulafaa
About the Speakers for the upcoming panel on the 19th October:
Khulod Albugami is an artist and an academic member at the College of Art & Design, Princess Nourah Bint Abdulrahman University in Saudi Arabia since 2011. She is currently doing her PhD in Fine Art at Birmingham City University, UK. In her research, she investigates the possibility to formulate different approaches, where art and spatial practices can be used for social empowerment by women in Saudi Arabia. Her main area of interest and research are cultural production in Saudi Arabia and its impacts on creative spaces made by women.
Quentin de Pimodan works as an analyst at Katch & Reyners, a public affairs agency. He studied engineering in Paris and then for several years worked for a French publishing house that aims at explaining national and international administrations to young audiences. He spent a year in Yemen in 2008 and was based in Bahrain for two years in 2014 where he co-authored "The Khaleej Voice", a six books series documenting the urban artists in the six countries composing the Gulf Cooperation Council  (GCC). He also contributes to Greece-based think-tank, the Research Institute for European and American Studies (RIEAS), with a particular focus on Iraq.
Amal Khalaf is the Assistant Curator of the Serpentine Gallery's Edgeware Road Project, an international residency and site-specific research programme based in the Edgeware Road neighbourhood of London. Amal curatorial and research activities address themes of urbanism, community media activism and art through participatory projects and media initiatives. In her work as a researcher and curator, she has been involved in collaborative programming with artists and community groups in London and Cairo, in addition to running activities ranging from screenings, performances, seminar series and conferences. Previously, she worked at Gasworks, London, the Townhouse Gallery, Cairo and Al Riwaq Gallery, Bahrain, as well as co-founding Hold and Freight, London, a project space based in an abandoned Victorian railway arch. Khalaf is also a Research Associate with the Department of Media and Communications at Goldsmiths, co-authoring a book on moving image in public space.
Anthony Downey is Professor of Visual Culture in the Middle East and North Africa within the Faculty of Arts, Design and Media at Birmingham City University. Recent publications include Don't Shrink Me to the Size of a bullet: The Works of Hiwa K (Walther König Books, 2017); Future Imperfect: Contemporary Art Practices and Cultural Institutions in the Middle East (Sternberg Press, 2016); Dissonant Archives: Contemporary Visual Culture and Contested Narratives in the Middle East (I.B. Tauris, 2015); and Art and Politics Now (Thames and Hudson, 2014). 
Tamadher AlFahal is a Designer, TEDx Speaker and Co-founder of Ulafa'a Initiative; a reconciliation-through-the-arts project. Her practice extends from community art projects to installations. She sheds light on areas of cultural conflicts and religious misconceptions influenced by her upbringing in the Arab world. She also co-founded Beige and Teal with artist Leon D., a creative platform for art and design that celebrates social and cultural narratives of Bahrain. Her main areas of interest are cultural identity, art collaboration and the creative process. Tamadher is currently doing her PhD in Birmingham City University, UK where she investigates philosophical approaches in contemporary Islamic design studies.