Its possible to be more positive.
Lockdown 6
Over 28k recorded deaths in UK and 68k in USA. Unimaginable a few weeks ago and everyone a personal tragedy.
In better, most positive news the beginning of the week saw the first whatapp pictures of baby Finley. A joy to their parents after many days of anticipation, potential inducement, hours of waiting in the hospital car park for Dad and hours, and hours of labour for Mum. All three are happily well together back home. Congratulatory flowers, chocolates and Prosecco were delivered by nearby cousins, across the doorway, at a social distance.
This week has seen further positive printmaking developments following acceptance that silkscreen print is impossible in Lockdown and a local digital solution is required. I ventured to my studio and locked myself in, meeting no one. A photographic image of a handmade mark, made in the Birmingham School of Art Print room was the first dipping of printmaking toes. Smooth cartridge paper and specialist Hahnemühle German Etching paper had been ordered online orders and was the first test.
Previously having tested the dithered bitmap approach with limited success another non bitmapped approach was taken. Inkjet print research suggested that using a photoshop CMYK mode, rather than 'bit map' or 'RGB' might deliver a less colourful black and white print out. CMYK does not look that different on screen, however the colour hue can be altered more effectively. A yellow cast was applied and printed out on plain, smooth cartridge and once reviewed on heavyweight grained Hahnemühle etching paper.

This paper has a coating applied specifically for inkjet printing. It has unique ICC number that is applied to photoshop to be best calibrated for the Canon printer being used.
The above images show the range of photoshop colour and printer settings applying the German etching ICC number. Once set and colour cast in place the Canon 7 ink printer settings were set based on previous tested settings: A3, Grayscale, Inkjet Hagaki. Printouts on cartridge suggested that the detail of the handmade mark could be retained however the grayscale output did not seem as rich in depth as the colour output. The grayscale setting was unchecked and a colour print made on Hahnemühle. This worked well and retained a depth of colour, detail and embedded in the deep grain of the coated paper. Like the original handmade image the iphone photographs below do not reflect the material tactility of the print, but hint at what it is when it can be viewed by in person.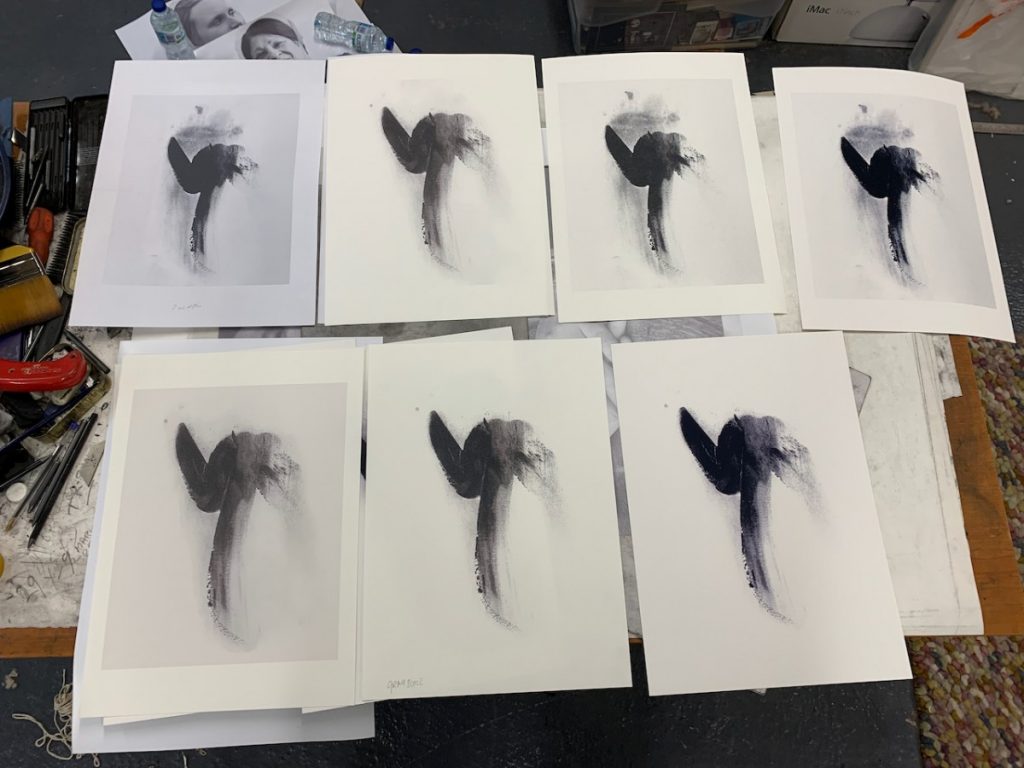 Eventually through trial and error I arrived at a satisfactory print. Now named 'Surface Tensions' and described here:
Surface Tensions is inspired by thinking of the place of the legendary Birmingham School of Art Print room where many cultures have met to make. The abstract image began during a fingerprint testing of water and powdered lamp black ink on the gleaming glass printroom mixing surface and given a material presence on a scrap of cartridge paper. A record of the ink mark has been kept as data in digital photographic archives for a moment like this, to give a new printed physical presence to the memory of place. Made by hand, kept as data, printed with inkjet.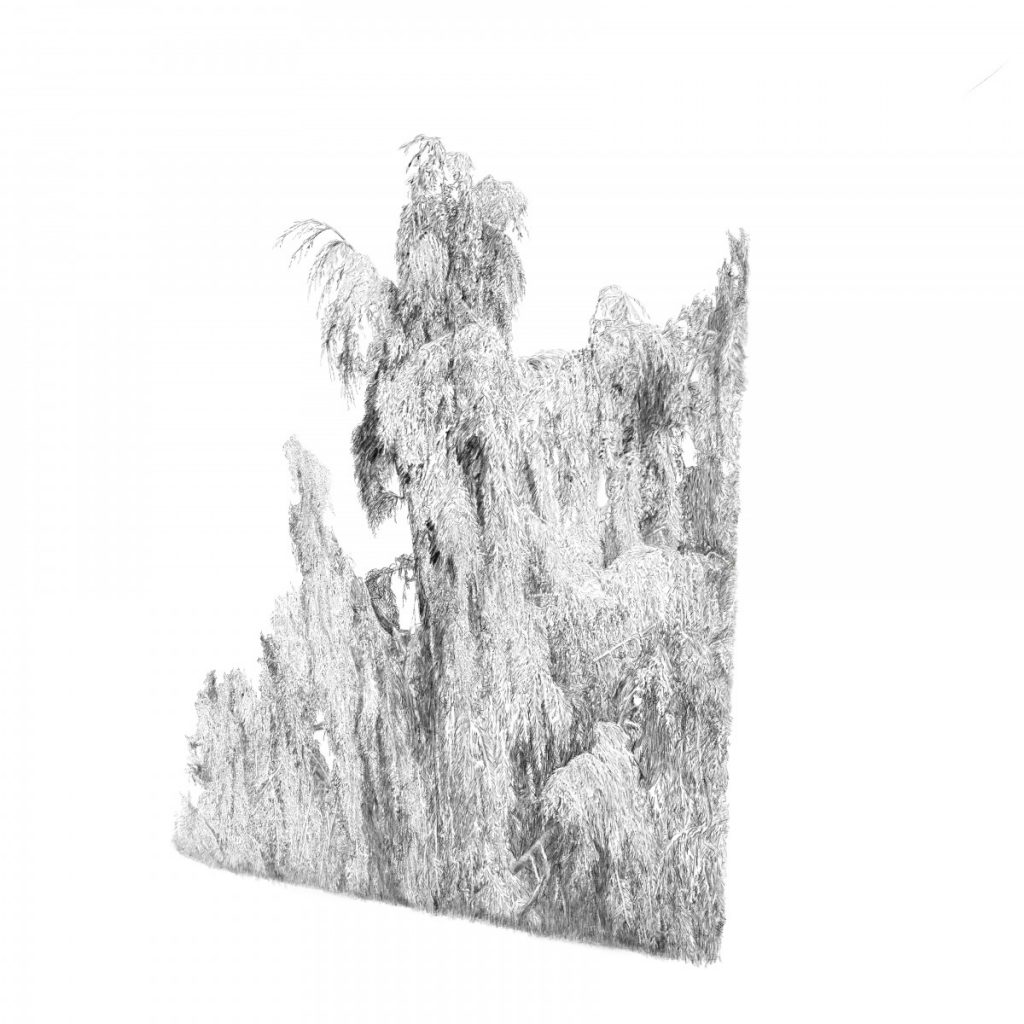 Looking out. I thought my Lockdown looking out drawing would be finished by now, but still at it with a shock moment when the Apple Pencil would not make any marks! Repaired and functioning as expected. Completion next week!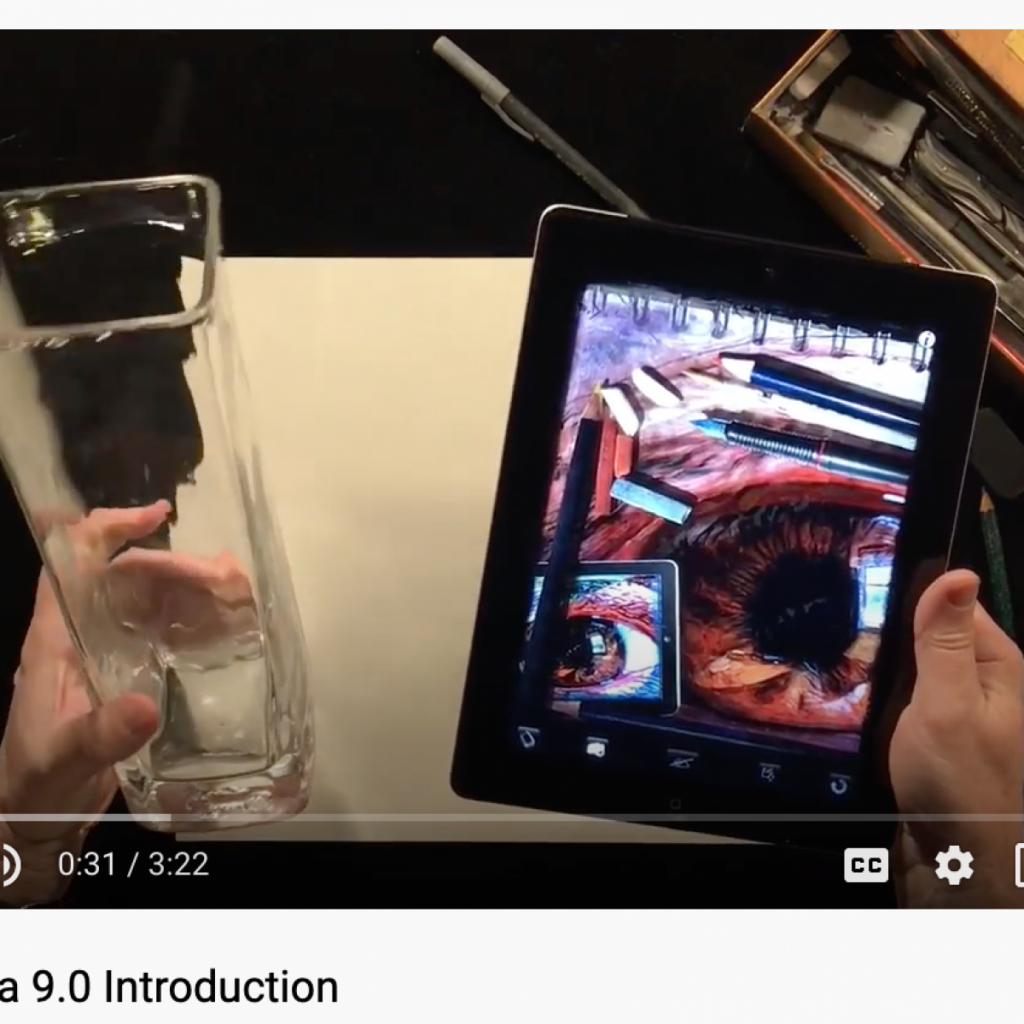 Browsing apps for new additions to the drawing possibilities turned up the Camera Lucida app: The ipad becomes a camera lucida with the help of a vase. Click below to era more from the developers.
Zoom and Teams users continue to find new ways for communications and family entertainment.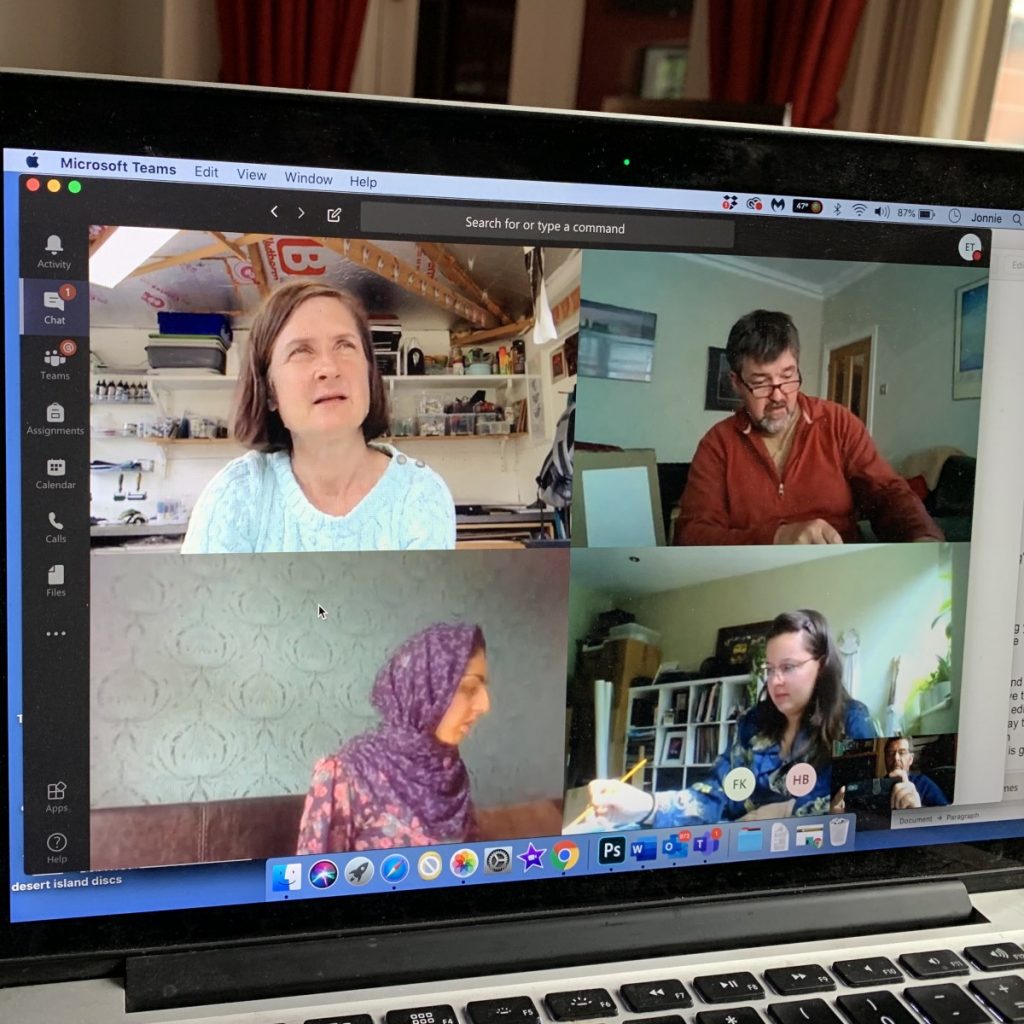 Our daily Teams printgang meet fell silent except for the sounds of pencils, brushes and burins as the usual talking heads turned down to concentrate on individual artworks taking form. From time to time a head would lift to show progress. Thanks to Lucy, Tabz, Justin and Boysie.
Finally a 14th Birthday got very exciting with virtual candle blowing, Pictionary on zoom whiteboard, followed by Heads Up with phone app across, Edinburgh, Melrose, Derby, Birmingham and London.
Guess: 'CHEERLEADERS"