Edinburgh and the National Gallery of Scotland :  Scottish Printmaking Symposium.
As a contribution to the place of Scottish print and politics Dr Lucinda Lax, from The Scottish National Portrait Gallery delivered a paper on 'The Bonnie Prince in Print: Sir Robert Strange, Allan Ramsay, and the origins of the 'Everso Missus' portrait.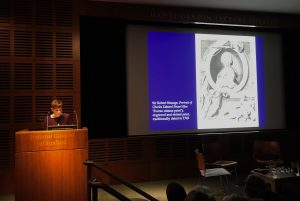 This was a fascinating insight into the background, context and process to make the portrait of the Bonnie Prince Charlie before he led the ill-fated army South.
Dr Lax quoted the letter sent to the artist inviting him to come to the Prince at Hollyrood : 'Sir, you are desired to come to the Palace of Holyrood House as soon as possible in order to take his Royal Highness's picture" The word 'take' seems to come from a future practice of Photography rather than a request to a traditional portrait painter.
Dr Lax thesis suggests the portrait was required to be made at speed before the Prince went south. This may have led to the use of the word 'take', rather to 'paint' or 'draw'
There are more details of the context of the summons at the art history news site when the SNPG acquired the original painting: http://www.arthistorynews.com/articles/3878_Allan_Ramsays_Bonnie_Prince_acquired_by_SNPG
and further confirmed in the  History Blog and  the Royal Archives in Windsor Castle. : "There he found a letter from by Bonnie Prince Charlie's valet to renown Scottish painter Allan Ramsay. It said: "Sir, you are desired to come to the Palace of Holyroodhouse as soon as possible in order to take his Royal Highness' picture. So I expect you'll wait no further call. I am, your most humble servant, John Stuart, Holyrood House 26th of October 1745″
As Dr Lax points to the painting that was 'taken' was also a foundation for the engraved and etched  prints  by Sir Robert Strange. A interpretation where the original painted portrait is developed and carried forward into another medium for dissemination.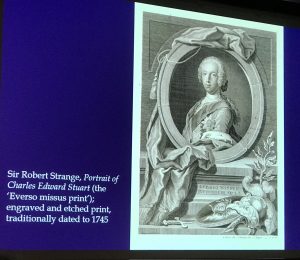 Scottish Society of Art History.
The symposium was organized by SSAH  and Dr Lax is looking forward to publish her paper through the Society.
Dr Ruth Pelzer-Montada, Edinburgh College of Art discussed the consideration of frame in her paper which reminded me of then SNPG selfie show last year which not only featured wonderful and varied self portraits, but also an innovation curatorial device of a empty frames in gaps between pillars and walls that encouraged audiences to frame their views.  Here are some iPhone pictures I 'took' from the show.